Wednesday, June 01, 2005
Got to admit it's getting better
I'm not just quoting the Beatles, I'm actually referring to my spinning. I still feel like I'll never really be great at it, but I'm progressing. Here's my third go (hank) next to my second go (ball) at spinning my practice roving.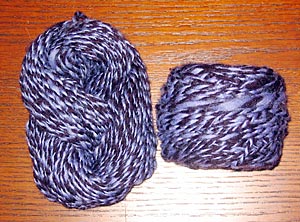 There are still some thick and thin areas, but I find them more endearing than annoying because they are still in the same ball park as the rest of the yarn. This fiber was indicated to be "easy to spin" which both gave me confidence that I had chosen the right roving, and made me nervous that I was setting myself up to never be able to spin anything else. At the back of my mind, at all times, was the beautiful
roving
my
secret pal
had sent me. Could I really do it any justice? (The answer is obviously, "no.") Would I ever be able to spin it? Would it be too hard? Would I end up with nothing but a tangle of fibers?
Well, instead of letting those gorgeous fibers languish in my craft cabinet, I figured I'd give it a shot. I tend to be one of those people who hordes the stuff she loves "just in case." I have this feeling that I'll have wasted it unless I wait for the perfect time to use it. I fought that urge and just started spinning.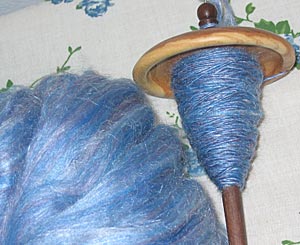 Spinning this is a dream. Where the practice roving is rather rough, this just flows. I still feel like I can't do the roving justice, but at least I'm having a great time trying.
I also have to confess just how dense I was when this whole spinning endeavor started for me, a few weeks ago. I originally placed an order for some practice roving, clueless to one tidbit of knowledge.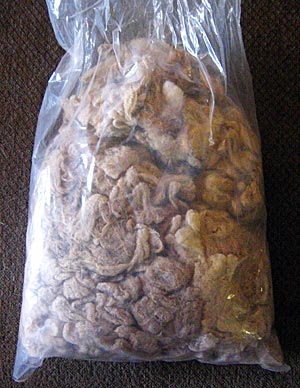 It just never occurred to me to look for "carded" roving. Oops. So I do have a rather large bag of basically useless uncarded roving. Live and learn.
At this point, had I been organized enough, I would have some great pictures of the prizes I won from
Stitchy
a couple weeks back, but that would involve both making myself presentable and finding time and lighting to photograph myself. The stars have just not been aligned for that. I do particularly love my yarny flower hair ornaments, but:
bed head + puffy eyes + need of shower = no picture
Anyway, I head out to SF tomorrow with Leo and Panda. We're celebrating Leo's last birthday before he turns 40. I probably won't be blogging or checking my email much in that time, but will plan to have plenty of pictures when I return.
In the mean time, here's a
fun site
for you, to tide you over.