Sunday, May 22, 2005
Fixing your mofles and cluths
Leo and I went to Little Tokyo in downtown LA yesterday to get some Chinese food (I know that Tokyo isn't in China, but some of the best hot and sour soup is in Little Tokyo, go figure.) sake and take some pictures for my submission to
Mag Knits
. All of it was great. We also walked around the city a bit, and checked out the newish
Disney Amphitheatre
which I've been in at night but have never walked around the exterior. It's amazing. The link above will show you some pictures, but you really have to be in the space to appreciate it.
We decided to take surface roads back home because the highways to and from the beach areas were packed. The temperatures were in the nineties, inland, but comfortably breezy and mild by the ocean. I'd been telling Leo about an automotive shop on Venice Blvd that had several glaring typos in their signage, that bring me to giggles every time I pass them.
For the first time, I have proof.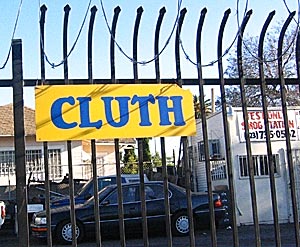 Yup, they repair "cluths". I am imagining what it must be like when the mechanic walks out of his shop, polishing a socket wrench with a dirty rag, shaking his head before informing the unwitting customer that her "cluth" is beyond repair but that he might be able to salvage one off of an abandoned vehicle he has out back.
But the problems don't end there.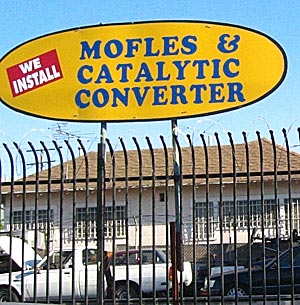 The mofle will never pass inspection, and a replacement will have to be special ordered. If she wants to pick one up for herself, he'll install it for only the cost of labor.
Ok, made up story aside, I find this particular sign all the more grammatically humorous because it's apparent that the sign maker KNEW he couldn't spell "catalytic converter," but threw caution to the wind with "mofles." Note, too, that while he was diligent to check some of his spelling, "mofles" is plural (I assume) while "catalytic converter" is singular. If you are a grammar stickler, that should ruffle your feathers a bit.