Monday, April 18, 2005
Simple Knits for Bachalorette Parties
My dear friend is getting married next month so a few friends and I threw her a bachalorette party in Santa Barbara this weekend. Pictures will be up soon, but for now, let's just say that it's sufficient information for you to conclude that not much knitting has been done.
I have begun the a sleeve for the cardi, but it requires keeping track of a lace pattern and shaping so it was entirely inappropriate for the level of inebriation to be expected at said party. Instead of knitting a sleeve, I worked on a simple scarf made from some of the great yarn
Julia
sent me.
Here's my current knitting progress.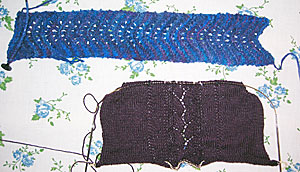 Click the image for a close-up of the sleeve.
As you may be able to see, the sleeve has a provisional cast-on so that I can pickup and work down from the elbow, once I finish the cap.
As for the scarf, I'm breaking a basic rule of scarf knitting by using a pattern stitch that isn't quite reversible. I think it's close enough, though and I like the way the subtle variegations give the purl rows a bit of highlight. The yarn is really fun. Up close it kind of looks like it came off a serger. In the ball, the yarn is fairly soft, but once knit up, it becomes softer still. If there is any pooling or zapping, it's too subtle to really detect.
Well, that's all for now, until the mind fog clears.