Friday, April 01, 2005
On the outside, a plain white wrapper
On the inside, solid gold.
Ok, apparently this song is from 1984, which means I first heard it when I was 9, but for some reason I still know all the lyrics. Sometimes I scare myself, especially since I don't much care for country music.
Anyway, it's a slightly modified but great description of what I got at the post office today.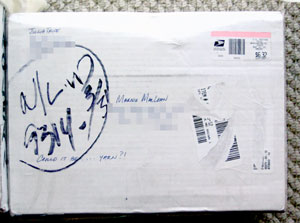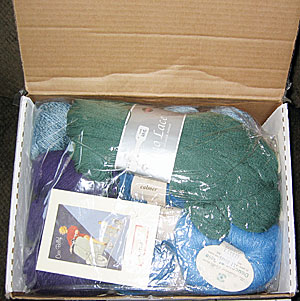 This is from
Julia
with whom I did a "services for goods" trade in which I have obviously made out like a bandit. All I did for her was make a drawing and she has gifted me with this veritable cornucopia of knitting delights. Wait till you see it unpacked.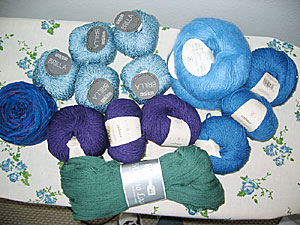 Click image for a larger view.
Additionally, she included a copy of IK, which I don't have. And a sweet card. YAY!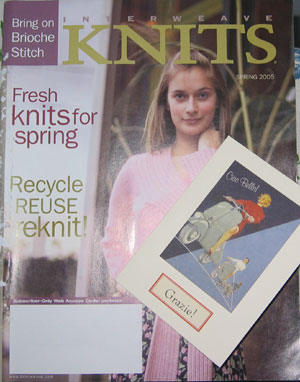 But hey, let's look at that yarn a little closer.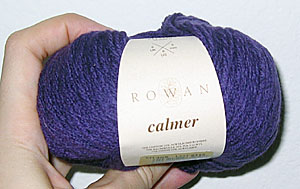 6 Skeins, in 2 shades of Calmer. I have always wanted to try this yarn having heard so many good things about it. The photo doesn't do it justice, but this is a deep royal purple shade, not nearly as blue as the picture would have you believe. There's also an amazing shade of blue, which looks striking against the purple. Mmmmm, purple.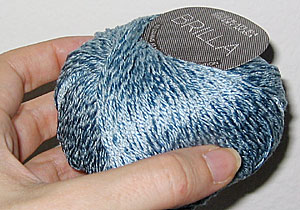 This is Filatura Di Crosa Brilla, let's just marvel at that sheen. It's a rayon/cotton blend and it's screaming at me to swatch with it, right now. How gorgeous would this be as a simple top with black slacks to wear out at night?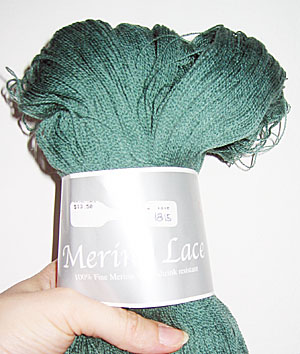 And how about this Merino? Gorgeous, green, soft, fine, begging to be knit into something a person with kids might consider an heirloom.
I don't know much, but I know I love you
, Merino Lace yarn. But you aren't the only one, sorry...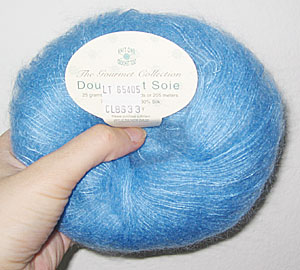 The color alone on this is to die for, but you don't know soft until you touch this. I had to take a moment to get a bit closer to this yarn


Don't judge me, I am who I am.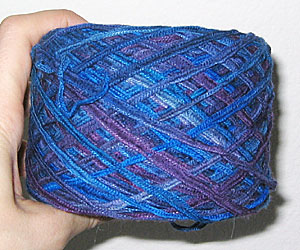 And last but not least, check out this ribbon yarn in all my favorite shades. The whole package of yarn could be knit together and this ribbon would make them feel at home. I can't wait to see how it works up. I'm thinking a scarf is in order. I wear them nearly year round here in LA because the nights get relatively cold for my thin blood. This would look perfect with my caramel colored jacket.
Julia gave me the decidedly unfair task of picking a favorite amongst these. Seriously, could you? What is this, Sophie's Choice? But I'm good for my word so I pick...
...
HOLD ON, Don't rush me!
...
...
Ok, since I've already violated it, I will have to go with the blue mohair/silk blend, but don't tell the others, I still love them so.
As for my last post, I'm really amazed with all the interesting perspectives people wrote in to share. It's a hot topic with a lot of factors and I'm always pleased when intelligent discourse takes place. I do promise to keep the political stuff to a minimum, though. Thanks for letting me vent a bit.