Saturday, March 19, 2005
I'm getting closer than I ever thought I might
And I can't fight this feeling anymore...
Ahh, the easy listening pleasure of REO Speedwagon seems to go perfectly with my progress on the cardi, who has yet to be named.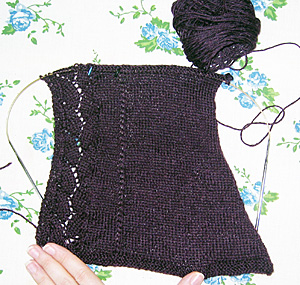 She's cranking along nicely and is still a joy to knit. I'm only about a third of the final length but that's about half of the total number of stitches, based on yarn usage so far.
And Matt, I'll knit you a sweater if you move to LA. Of course, in LA you don't really need a sweater, but that's neither here nor there.