Saturday, December 04, 2004
Don We Now Our Knit Apparel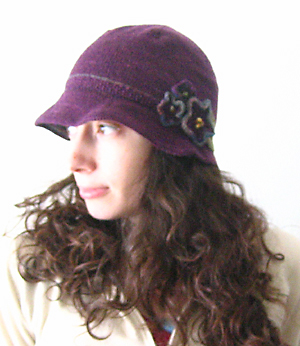 Here is a picture of the cloche on because I really think that nothing looks the same sitting flat. Sorry that the image is mostly blown out but with the particular lighting, I could either give you a too dark hat or a too bright everything else. Since you see my silly mug all the time, I decided to adjust for the hat.
My mom posted a comment to the effect that the hat is nearly reversible and she is right. Except for the flowers, the hat could truly be worn inside out. The stripes are a little unique on the inside since it's in reverse STst, but that's no matter. The key though is making sure all your ends are woven in cleanly.
Well, my vacation is nearly over and I'm having trouble coming to terms with that. Going to bed at 3 AM and getting up at whenever o'clock has been a joy. We've done lots of little things that need to be done and still managed to be lazy about it. At least blogging will be more regular again.