Saturday, November 06, 2004
Regularly Schedlued Knitting
Well, these past couple of days, quite a few of you made some very thoughtful and interesting comments. I've spoken with some of you privately as well, and appreciate all your insight and sweet sentiments. It's now official, politics trumps cute puppy pictures around here, for comments made.
That said, let's get back to knitting and puppies and other happy goodness.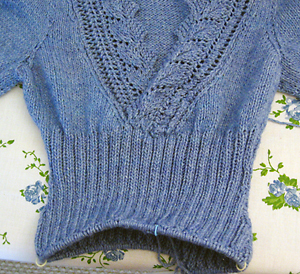 Bella P is moving along. As with most projects involving days of knitting ribbing in the round, I'm starting to get a bit bored with it, so I may put it down for a couple of days and do something small and complicated to jiggle my brain a bit.
Last night, Leo and I treated ourselves to a night on the town in LA and Hollywood. Most people in LA don't even know there IS a nightlife in downtown LA. It doesn't hold a candle to what's in the more popular areas, but there is fun to be had. We started at the
Bonaventure
which has a rotating cocktail lounge on the 34th floor with a view of the entire city. It's really pretty stunning. I suppose this isn't really "nightlife" per se, but it's a great way to start the evening. The food and drinks are pretty good, though pricy. If you like steak, you can order some from the LA Prime, located one floor up from the cocktail lounge.
We often go to the
Standard
after hitting the Bonaventure. Which is good for a laugh. Again, it's pretty pricy, but the people watching is a hoot. When we're in for something a little more low key, we sometimes go to
Ciudad
which has great atmosphere, tons of tequila, and live music and salsa dancing until about 11. Of course, that is the rub, most people have not even started their night at 11pm, and the band is already packing up. Kind of a shame.
Last night, though, we skipped the rest of downtown and headed into Hollywood for some fun, starting first at the
4100 Bar
and another bar whose name I cannot recall. It's a teeny tiny little goth club which I found more amusing than anything. The people I talked to there were actually surprisingly sweet and friendly, which is always a surprise in LA.