It seems like forever ago.
The talented and wonderful, Shannon Okey, contacting me to ask if I'd design a piece for the second of her KnitGrrl books. I hadn't ever worked with her before but her enthusiasm was enough to sway me. I drafted up a proposal and sent it to her and she accepted the idea. The result is Drake the Dreaded, the Dragon Backpack: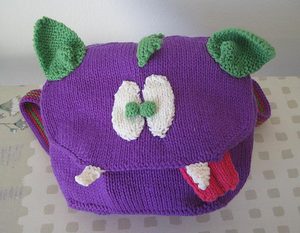 I think he's cute. You see that tongue there? It's functional.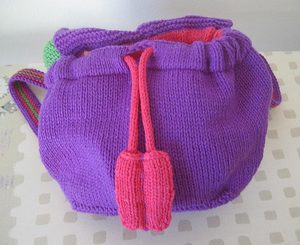 When you open him up, that tongue is the pull cord to cinch the bag shut.
Here's his backside.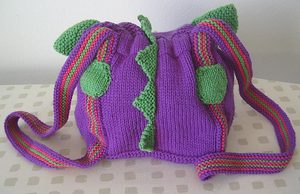 Shannon gave me great positive feedback when I finished him and sent him off. I was excited. Unfortunately, he didn't hold nearly as much charm for the editor of the book and he was cut, last minute. It happens and it was definitely not a personal thing. I was offered the choice of having him be a free promotional pattern for the book or just getting him back to use as my own pattern. There was some problem getting any final paperwork from the editor so we decided to cut our losses and Drake is back home with me.
Since I still have my original pattern instructions and I now have my sample back, I was thinking I'd offer the pattern up on my site, for a very small fee, say $3.50. I wanted to feel it out though and see if folks thought that would be of interest to them. So leave me a comment and let me know what you think and if there's a lot of interest, I'll post a pattern this weekend.
In spinning news, I've been spinning up some of my yummy Almost Solid Series Sampler.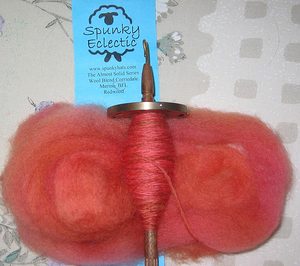 This is some BFL in colorway "Redwood." It's my first time spinning BFL and it's a delight. I'm spinning it on my 0.9 ounce Golding. When plied, it should be about a DK weight.
If you've been wondering about the machine knit cardi and cami, they are done, I just need to get them on me and in front of a camera when there is actual daylight.