You may all be getting sick of Cannon Beach pictures, but we never get sick of going, and, of course, it's Panda's most favorite place, being so full of water, sand and fetch. What's so great is that the beach is clean, there are hardly any crowds and there seems to be minimal rip current to pull our cutie pup under the waves.
We are continuing our quest south down the beach, this time starting from haystack rock. You can see all the pictures from the beach, by going to this page.
Beach going is one part sight seeing to two parts fetch.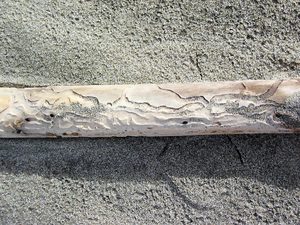 A stick carved by some sort of wood loving creepy crawly.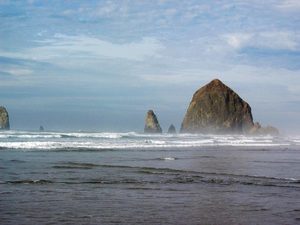 The mist rising up around Haystack rock. This time the tide was too high to reach the rock without aid of some sort of kayak or large burly man to carry you.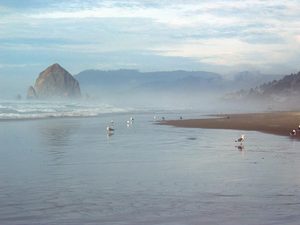 Seagulls walking along the beach.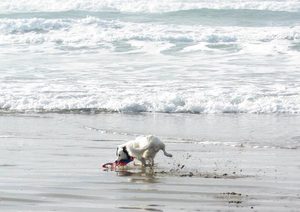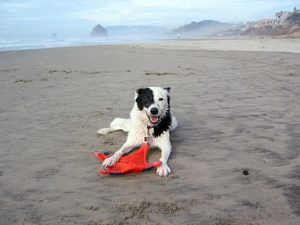 Fetch and resting with the squirrel until someone throws it again.
It's all very tiring yet satisfying work, as I'm sure you can imagine. However, there are risks. Getting to this tree stump was far easier than getting away.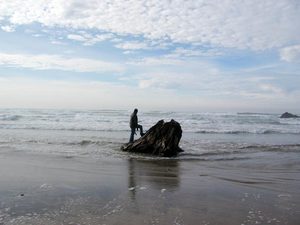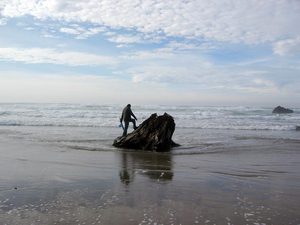 There was no water near that thing when he climbed up. We weren't sure if he'd make it home or if we'd just have to leave him there.
He planned, though, since he had the car keys, we decided to wait out the flood.