After seeing MK Carroll's Knitty Gritty episode, I popped off a little comment to her and we started conversing. Turns out, she was going to be in my area, right about...well…now. So she invited me to a local Knitting Guild which offers two free visits for non-members. I went last night and had a great time. I met some lovely people, MK included, who made me feel incredibly welcome to my new town and who didn't act the least bit put off by my rather clumsy conversation and non sequiturs.
First, there was Amanda, who kindly welcomed me to her table when I showed up late and popped down in a corner. She was gracious enough to forgive me when I, in my infinite social nervousness, didn't recognize her name. Sorry! She just happened to be sitting next to MK and then introduced me to the rest of the table; Katrina, Chrissy and Donna one other woman whose name has escaped me but who should not take that as any reflection of my opinion of her. I'm still trying to find someone in Portland who is mean, but I'm not having any luck. To paraphrase Leo, who is paraphrasing someone else, "If you can't find the jerk in the group, chances are, it's you." I'm kidding of course, no need to fill my comments with reassurances.
Since I didn't take any pictures while there, I'll have to leave you with some Panda goodness instead.
Here's my little girl all curled up and sleeping on the couch, one chilly morning this week.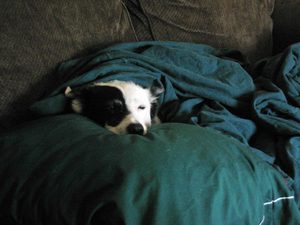 When she hangs out by the computer, Leo calls her our little firewall.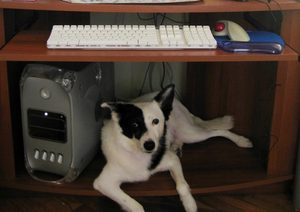 And here she is, realizing that she can see Leo on the other side of the window. He's taunting her and she's barking.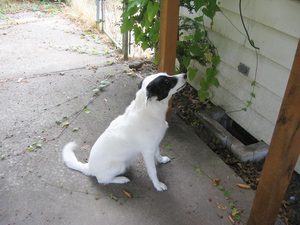 I spy, with my little eye, something beginning with "L."