Well, it looks like I'm headed back to India for a couple weeks, starting on Wednesday or Thursday. So now, I will be away from Leo and Panda, my two little rays of sunshine AND El Matchador, my new constant companion (is it just me or does "constant companion" sound like a personal hygiene product?). I expect this trip to be much more intensive and less fun all around, but I still hope to make the best of it. I'm a touch nervous about going without anyone I know and as the sole representative for my company. But let's not talk about work, let's talk about freshly spun yarn.
The Red Maple roving worked up quickly at a nice thick and thin, mostly worsted weight yarn, once plied. Do you want to see something amazing? Here are the two bobbins after I finished plying them.
Please excuse the lighting, it was evening when I did the plying.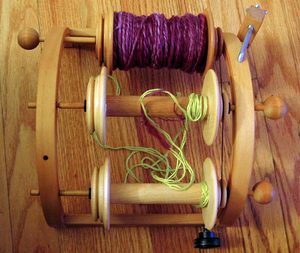 I had all of maybe 12-18 inches of singles on one bobbin when the other emptied. There was no planning, no trying, just magic. *sigh* It'll never happen again.
I thought the red purple would look nice against the cement of the back patio.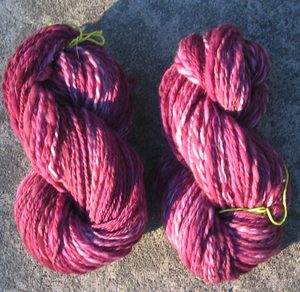 It's a thick and lofty yarn, with out too much spin, and the results are every bit as squoochy and sproingly as you'd want it to be. I already have plans for some of this.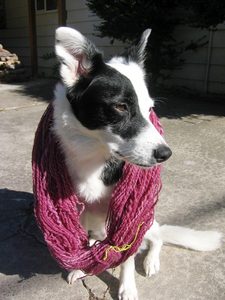 Panda gives it a due air of elegance.
After the merino, I pulled out some more roving dyed by Chasing Rainbows Dyeworks (alas, still no website) that I bought from Carolina Homespun. The colorway is "Purple Haze" and it's a heavenly mix of purples and steel grays. The blend is Merino/Bombyx and I had 2 ounces worth.


I spun it up pretty finely because I wanted to try to use the Navajo Plying technique. For those who haven't tried it before, Navajo plying is a means of achieving a three ply yarn off a single bobbin by, in essence, working very long crochet chain stitches. It takes a touch of coordination, but with a little practice, it's actually quite fun. I started with some scrap yarn I had and got the motion down, before trying it with my new singles.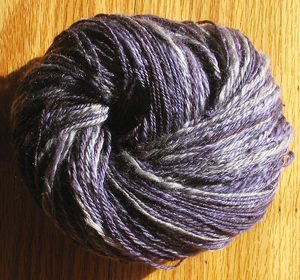 The results are nice; a nearly balanced 3 ply with lots of sheen and a soft hand.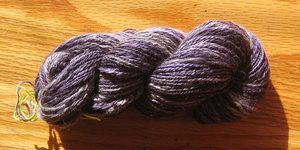 There's a lot I'm going to miss while I'm away.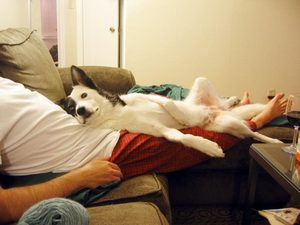 A lot indeed.
Went to OFFF today, will post about that soon.