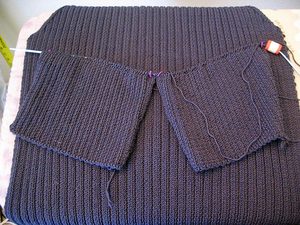 You know, I'm not completely burned out on knitting navy blue ribbing, but I'm pretty sure that having to start another sleeve from scratch would be a challenging endeavor. I think that knitting them both at once is a good choice. It's a bit of a bummer knitting all those stitches in a row and knowing I have many increases ahead of me, but in the few minutes I'm finding to knit each day, I can usually zone out and enjoy myself. My mind definitely starts wandering, yearning for future projects, but there's also that side of the project that's all about doing something special for Leo. I know, so sappy.
So those are the two sleeves, almost a third of the way to the sleeve cap. They are perched upon the blocked back piece, for scale.
Having folks take my quiz has been really fun, by the way. It's interesting to see how folks imagine my life to be. For those who didn't score so high, don't feel bad, it's not like most of that stuff comes up in day to day blogging.