Le Ann commented in my last post, that she felt my credentials as a woman, exceeded hers, ostensibly because I was working on a sweater for Leo that contains miles of ribbing. Well, this story will either solidify her assertion or, more likely, make her wish to retract her comment.
The evening was like any other; Leo sat at the computer, while I sat 10 feet away, knitting and watching tv. There was a crinkle of a potato chip bag, then several satisfying munches. The conversation was light between us; events of the day and whatnot, so there was no need for constant eye contact. And then I saw it. Panda, tail a wagging, was heading towards a prize. Leo had dropped the largest chip he could find in the bag. Seeing that I had caught him in the act, he prodded Panda on. "Go on, Panda, get the chip." I countered, "Leave it! Don't you eat that chip." The challenge began.
She licked it, but backed away. I swooped in to pick up the offending chip and toss it. With a self-righteous tone I said, "I'll give her a proper doggy cookie." I pull out the bag of Tiny Tots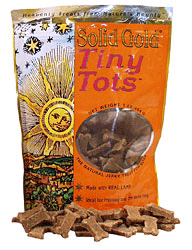 They smell a little bit like beef jerky and they are fairly soft, almost malleable. Panda finds them delightful. Leo scoffs "Those suck!"
"Oh do they?" I reply, "How would you know, have you ever tried one."
If this were a wild west showdown movie, music would have started playing. Our eyes locked and two very stubborn people sized up the situation. Still holding the bag of treats, Panda placated, I pulled one of the treats out and placed it in front of Leo.
There was a fleeting moment in which his gaze wavered and a look of doubt crossed his face. Then, like a cobra striking, his hand darted out, snatched the treat, and he bit off half, all the while, his eyes never leaving mine. His face was smug while he chewed once, twice, three times and then there was realization. Slowly, his eyes widened and panic set in. Half a cookie still clutched in his hands and most of the other half sloshing between his teeth, he gasp and let out a meek "It's awful!"
He leaped up from his chair and ran to the nearby kitchen sink, spitting and splashing water into his mouth at the same time, I tried to hold back laughter but cannot. He cries "It's stuck in my teeth!" He runs to the bathroom and brushes his teeth for what feels like minutes. I'm laughing so hard, I'm having a bit of trouble holding myself steady, Panda just looks on bemused. I hear a pained "It's like puke mixed in play-doh!" and it's all I can do to keep from keeling over from asphyxiation.
This is a moment, not unlike many between Leo and me. We are two very stubborn people and the result is usually that one person eats crow, or in this case, something far worse.
Not two nights later, I was enjoying dinner with my brother and mother. I had an experience that would make any Freudian psychologist dance with glee. Some of you may remember this post from December 2004. Well, my little brother has exceeded his previous goal, and/or, sunk to even deeper depths.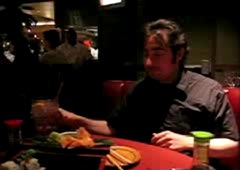 click image for Quicktime movie
Does it bother me that my brother and boyfriend are both willing to put themselves through undue suffering to prove, who knows what? No more so than it bothers me that, politically, they are so similar they could live in the same bomb shelter together, nor that they have the same sardonic sense of humor. I'm sure it should trouble me that their personalities are so similar but I'm resigned to it. Hey, look how much amusement I get out of life. Why change a thing?