I think it's been 5 years now, maybe 4, my memory is not so good, but it is time. We've had a good run, going many fun places together, but let's be honest, we're both more worn than when we met and my needs are simply greater than you can accommodate.
This is the conversation I had with my old Klimt purse.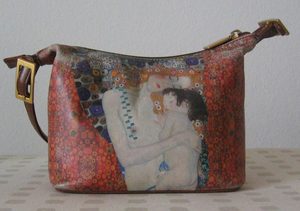 You know, I still really love the design and its small size always kept me from carrying too much stuff, but it could never quite accommodate my cell phone, wallet AND the digital camera, along with things like keys and such that are purse mainstays. I think, if the image weren't fading, I'd carry this purse forever. It was a gift from my mom, several years ago, and it's gone with me just about everywhere. I am not a purse floozy. Occasionally I'll carry something different when I'm going out for an evening, but in general, I'm a one purse kind of girl.
But yesterday, a package arrived from my mom. She has graced me with a brand new Klimt purse, which is bigger and even more lovely than the last.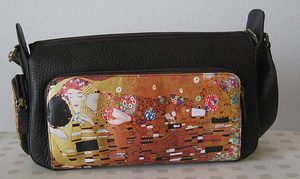 Gorgeous, no? It's a deep chocolate brown and nearly twice as big as my old purse. They are both Icon purses and I can say, with some authority, that they are very well made. Despite the fact that I have carried my old purse for years and stuffed it full on many occasions, it only showed wear at corners, the main image is still perfect, and the lining has never so much as considered ripping. The new purse has a lovely assortment of pockets and pouches and even came with this matching key chain.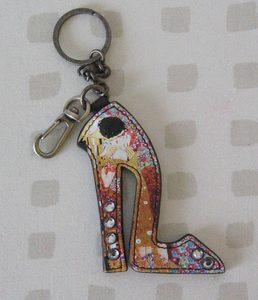 It has taken me all of 5 minutes to move everything out of the old purse into the new one and it feels like moving from a studio apartment into a 3 bedroom house; there's just so much extra space. Yay!
In crafty news, the sleeves on Leo's sweater are nearly done with only about 30 more rows left, I hope to have pictures soon. For now, here's a peek at some of that pink roving that Lynn sent me, which I've been spinning on my Kundert spindle.