Since my post on Friday, I've done about 80 rows on Leo's sleeves. I am finally at the sleeve cap, which means no more increases. Not a moment too soon, I say. There were a few moments when I mentally psyched myself out and I wasn't sure I'd ever see the end of them.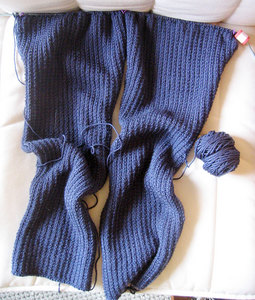 There is actually a likely possibility that the sleeves are a little bit long. Personally, I'd rather have to shorten a ribbed sleeve than have to lengthen one. Ribbing is unidirectional. If you pickup and knit from the other direction, all stitches will be half a stitch offset from the point you picked them up. This means that lengthening a ribbed sleeve is best done by knitting a new cuff and grafting, in ribbing, to the base of the sleeve. I'm very comfortable with grafting in stockinette but ribbing is a whole other beast.
But you know, it's easy to find motivation when knitting for Leo. It's not all about eating dog cookies at our place. On Friday, Leo treated me to dinner at my favorite Italian restaurant.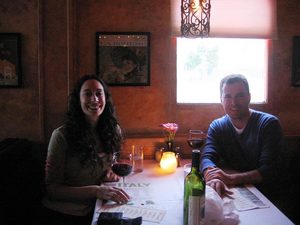 He said he loved me so much, even the stains he leaves on his placemat are heart shaped.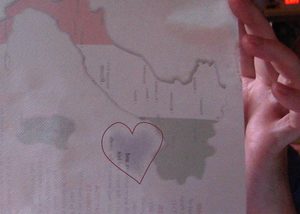 After dinner, we made an attempt to go out and tear up the town, but having both gotten up around 6 am, we were pretty beat by 11pm and the bars still all seemed empty. Leo did take this cool picture of us reflected off the mirror behind the bar.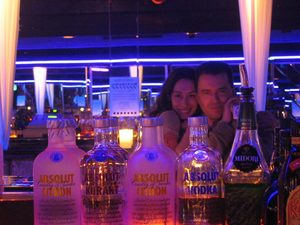 You can see his camera peaking through the bottles, if you look carefully.
It ended up being an early night, and a quiet weekend. On Saturday, I knit sleeves while I watched Memoirs of Geisha. It may not be as good as the book, but it's been quite a few years since I read the book and the cinematography alone was captivating enough to hold my interest. There were a few things I remembered well enough to feel like I could pick apart the movie a bit, but it never stopped me from enjoying it.