I really want to show you images of the handspun I've been knitting. What is my problem? Lighting. I get up at 4:30 am to blog, and I've spent an hour trying to get a decent picture. It's not light out when I'm home, this time of year. While I've certainly offered my fair share of crappy photos, I genuinely do strive to have something decent to show you.
There are some bloggers who just never seem to have bad pictures up. They tend to photograph their pictures in natural light to ensure that everything looks beautiful.
I am not these bloggers, nor any of the others, who, ifI weren't so sleepy, I'd remember. Nope, I take pictures when I am ready to blog and light be damned! But it doesn't mean I don't lament my crappy photos. This morning, I took my soy silk yarn on a field trip around the house in hopes of finding a decent shot.
Go on the adventure, after the bump.
The starting place is always the ironing board. It's there, it's light colored, there's a lamp next to it, no clutter, easy peasy.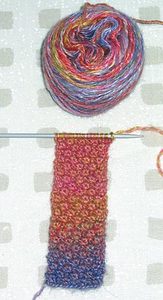 Blah.
How about faux wood veneer on a speaker?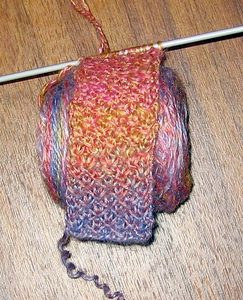 It's like something out of the 1970s.
The kitchen counter?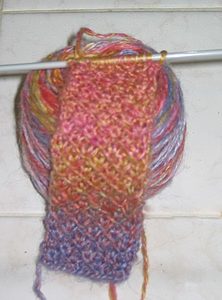 Definitely not. But do admire my great focus. Yah, baby.
Leo's bathroom counter?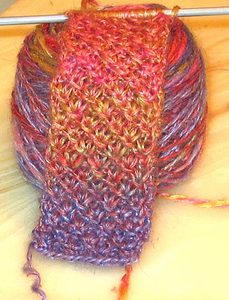 Yellow marble isn't cutting it.
Well, you knew where it'd all end, didn't you?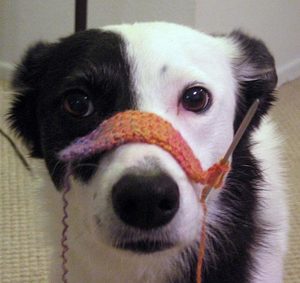 You can't see the knitting, but still, best pic of the bunch.
And don't worry, I didn't poke her eye out or anything.
Maybe I'll manage to snap a photo in good lighting while at work. Maybe not. For now, just know that we here at Marnie Talks do strive to offer great service, and it's always the thought that counts, right? RIGHT?