I just love my Autumn Spice Cotswold. I think about spinning it when I'm at work and it's become increasingly hard not to burn dinner while I try to work spinning into my nightly routine.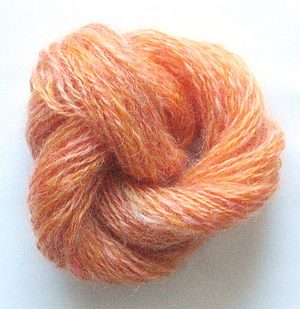 Here's a bit more of it spun up and plied. Why do I love this yarn so? I don't know. It's not the softest yarn I have, but it's certainly soft enough to be knit into a nice wrap or a cardigan. The little halo of fuzziness delights me. At first I was thrown by it, but now I love it more and more. I pre draft the roving and the yarn just seems to spin itself. It's nearly effortless.
But I also got myself some of the Fudge Brownie roving. This stuff is gorgeous. The color is dark chocolate and the feel is silky, dense and smooth. Fudge Brownie is the perfect name for it. I find it harder to spin though. Instead of long snakes of roving that I can predraft, this tends to want to fall into clumps. It's smooth but the fibers like to grab ahold of each other in unexpected ways so I end up with more thick and thin areas than I'm used to. I tried my 0.9oz and then my 1.3oz spindle. The extra weight seemed to help. I decided to try spinning it a bit thicker than normal, and this is the result.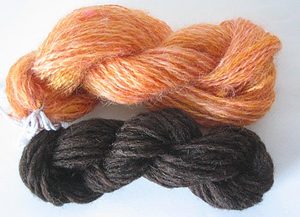 On top is both of my skeins of Autumn Spice held together in a single skein. You can see that the brown top is much thicker. Spinning thicker yarn is turning out to be challenging for me. I did notice, in the process, that I like the way the yarn looks when it is really tightly spun. It loses some of it's softness but it picks up a sheen that's decadent. I think my next skein will err on the side of overspun, to see what happens.
Here's a close-up of the two yarns. You can see that my brown yarn is not very even.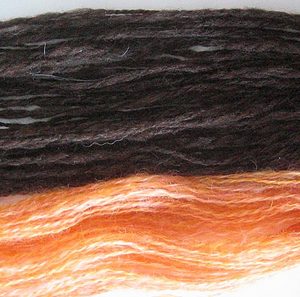 MJ has been trying to spin more thickly too. A lot of people feel that spinning fine weight yarn is harder than thicker yarn. But I think most people acclimate to spinning a certain weight of yarn and need time to learn to control other weights. It's not a matter of "this weight is good" and "this weight is bad." I'll consider myself a good spinner when I can spin many weights well. For now, I proudly wear my "novice" crown, with my head held high. No shame in it.
There's just one thing that bothers me. Do you hear it? I know I do. I hear the sweet song of the wheel calling me. I'm trying to be strong and, luckily, I do not think I could reasonably justify the cost right now. But that doesn't mean I'm not haunted by the thought of spinning all my gorgeous roving in a couple days instead of needing months to do it. I can't deny that seeing huge skeins of continuous roving, wound off a bobbin, doesn't make me drool a little. I'm counting on a certain friend of mine, to keep me sane. And if I happen to visit this site several times a day, it's only for research purposes.