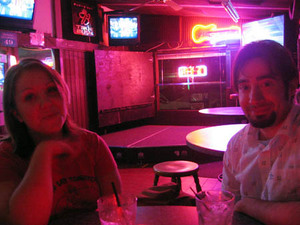 Matt and his girlfriend left town yesterday after a fun filled weekend of eating, partying and eating some more. We also did a bit of snacking between meals. I'm not sure if meeting Leo and me completely doomed Matt's relationship with Jess but if that didn't, perhaps seeing Matt do karaoke did.
Because I'm a loving and good sister, I recorded said karaoke for all the world to enjoy. Do you have Quicktime? If so, click on one of the links below
Don't forget to crank those speakers.
This was about a half hour before midnight on New Year's Eve. We went down to Santa Monica where we found a bar full of happy people enjoying some of the flat out worst karaoke I've had the opportunity to experience.
More pics from the weekend, after the bump.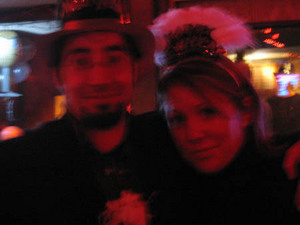 The bar had no cover, free party favors and "champagne". Considering what Leo and I have seen in the past, this was a real bargain. We visited another bar after midnight that wanted to charge $35 per person to get in. Did I mention that was AFTER MIDNIGHT. Sheesh.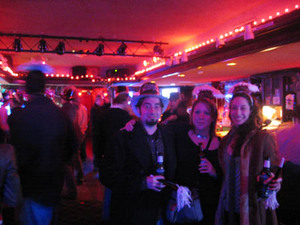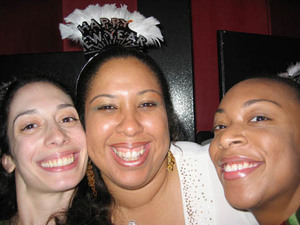 What I liked most about this bar was how friendly everyone was. LA isn't necessarily known for being warm and hospitable, but there wasn't an unpleasant person among the crowd. These two women were just as cute and funny as can be. I met them in the line for the women's room, so I snapped a picture.

Leo sometimes gets tired of my constant picture taking. This is how he deals with it. I'm just impressed that he's not employing any sign language.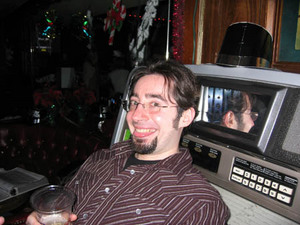 Here's Matt a bit before he went on stage. I think he's feeling overwhelmed, or maybe a little over lubricated. It's a good thing that jukebox was there to support him.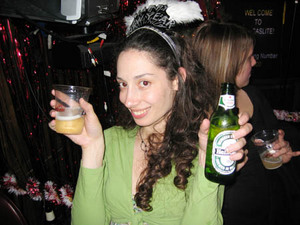 That's some of the free "champagne" that they passed out. I look like such a lush when I'm double fisting.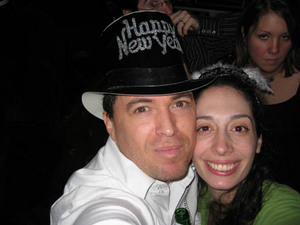 Finally, this is my favorite picture of Leo and me.
There was kissing and cheering to follow soon after.
Here's hoping all of you had at least as much fun. Happy New Year everyone.