I have a lot of "well duh!" moments, which would be "Aha!" moments if they weren't so obvious. One of those moments was when I realized I had everything I needed to determine the yardage I'm getting with my spinning.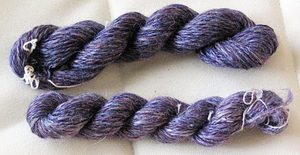 Here are two skeins of my soft and lovely yarn spun up from the roving my brother gave me. Before this weekend, I would have told you that I had no idea how many yards were in there, but the answer was obvious all along. To make my skeins, when done plying, I wrap the yarn from the spindle around my calf, from foot to knee. the long way. To find out my yardage, I wrapped the tape measure the same way, found out my length and multiplied it by the number of times I wrap the yarn around my leg. Well duh!
More gratuitous yarn shots after the bump.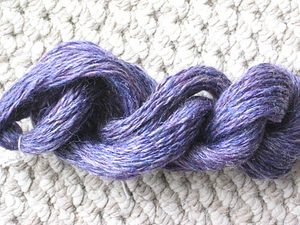 I'm really pleased with how this yarn looks and feels. It's not busy or distracting, just a nice heathered purple.
You know, before we go any further here, I really need to go on record to say that I do not force my doggy into photo servitude, she quite willingly inserts herself into photos, most likely because she finds me looking at and focusing on something other than her.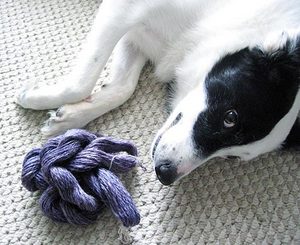 It was a pretty dreadfully rainy weekend here in LA, and there wasn't much sun to be had, so when it peaked through the clouds, I grabbed the one spot I could find a ray of sunshine.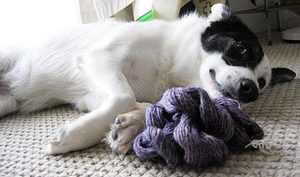 Panda just plopped herself down for some lovins and I kept snapping away.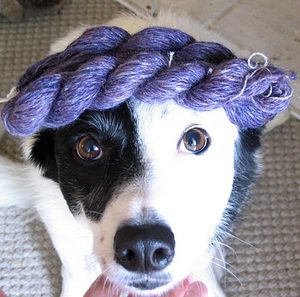 Ok, ok, maybe she didn't quite willingly pose for this one, but, come on, don't we all suffer for art?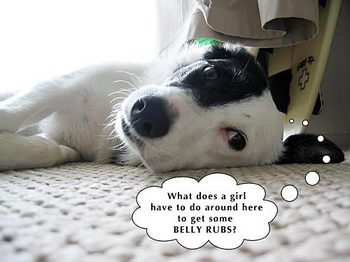 Panda asked me to send Caia a message. She says, "The eagle flies at midnight."
Huh, I wonder what that means. Nothing to worry about, I'm sure.