Well, I just mailed off my top secret project, with all its fixin's to it's rightful owner. I'll miss that beautiful plum color Calmer but not as much as I've missed being able to talk crafty on my blog. While stories of Panda and hikes and tea and eating are all fun, it's yarny goodness upon which this blog is built.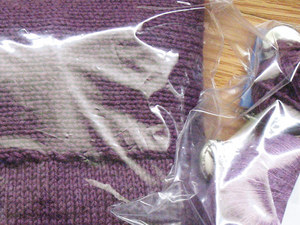 So adios pretty plum calmer and, long time no see, Lily!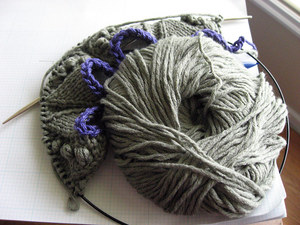 I've only had time to cast on and work a few rows of the second sleeve and it's amazing how hard it's been to get back into the swing of it.
Truth be told, I'm the sort of person who would likely have abandoned this with such a long hiatus. I know that's crazy, but when I lose momentum on something, it's almost never that I pick it back up again. It's good for me to push myself to finish these projects so they don't languish and end up ripped, or worse, donated to charity in their half knit form.
I have a couple other projects I'll probably be working on this year; projects that cannot be blogged right away but which I'm pretty excited about. But I also have big plans (bigger than any warping of the space time continuum can accommodate) that should all be bloggable.