Before I bore you with more of the same, how about a little something new?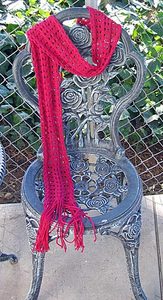 I finished my stealth knit a little while ago, and it's awaiting whatever fate the yarn gods have in store for it. That left my needles free for other things.
I begin teaching some classes at the KnitCafe, starting this week. The owner asked me to come up with a simple eyelet scarf pattern and the above image shows the results.
I'm relatively picky about scarf stitches. I don't believe they have to be completely reversible, but I do feel that, if others are respecting your personal space, it shouldn't be apparent if the back and front don't match. So my quest was for a stitch pattern that used only knits, purls, k2togs, ssks and yos, and did so in a manner that was very simple, basically reversible, and would lie flat without any additional edge stitches. I couldn't find anything that entirely suited my needs, so I modified a stitch pattern and came up with what you see above.
Here are some close ups.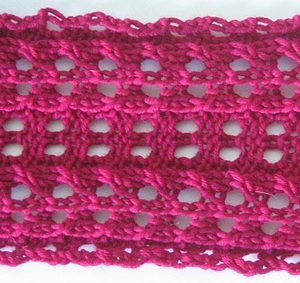 There isn't a front or back, per se, but let's call this the front.
And here's the back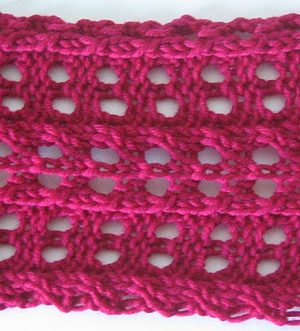 The yarn is the leftover Karabella Aurora 8 from Hopeful. I used exactly 2 balls with less than a yard left over after I wove in all the ends and cut the fringe. The scarf blocked out to about 6 feet long. The stitch pattern is a modified 5x5, with a 3 stitch selvage on each side.
I will post the pattern, for free, sometime soon.
And now, some entirely unnecessary images of my Cotswold as it basks in the California sun, after the bump.