The Spring/Summer 2010 Twist Collective is up and it's visually stunning and filled with amazing designs. I was lucky enough to have two submissions accepted and will do a blog post for each.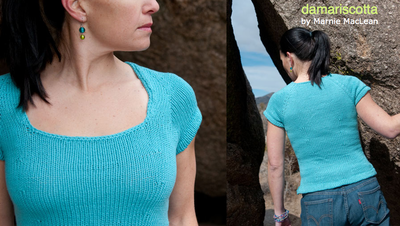 The first piece is Damariscotta.
Named for a hard to pronounce but lovely little town in Maine, near where my dad's family has land. I'll sometimes fly out to Maine to go to the Fiber Frolic with my mom, and we'll all stay at a little cabin that my dad built on the land there.

Having grown up in New England and having spent plenty of time in Maine, I associate the area with a love for the ocean, a rather pragmatic sensibility and clean and structural design. I strove to capture those qualities in this top.
The piece is knit from the top down with instructions for an entirely seamless construction, right down to the double-knit hems that are grafted closed. I've also included instructions for people who might run at the sight of the words "graft" or "double-knit" so don't despair if that's not your cup of tea.
I also think this piece would be magnificent with a simple lace border around the hem and sleeves, instead of a finished hem shown. A wee bit of single crochet would prevent any curling and it would turn this simple piece into something worthy of a pretty pencil skirt and heels.
While I love the idea of a deep angled square neck (image it over a pretty little lace tank,) I knew that wouldn't suit everyone and that is why I chose the top-down construction instead of my preferred method of knitting bottom up. Keeping in mind that the single crochet will pull in the neck a little, one can simply throw the live stitches onto waste yarn and try the piece on to determine the most comfortable and flattering neckline depth and width.
Once you work the neckline you like best, you can shape the torso to follow every curve or leave out the shaping altogether for a more relaxed fit. The sleeves can be worked the same way, and can easily be lengthened to fit your climate and preference.
So that's Damariscotta for you. I hope that those of you who like the design will enjoy knitting it, and if it's not your style, I have no doubt there's another piece in this edition that will catch your eye.
Check out this and all the other beautiful patterns in the Spring/Summer 2010 edition of Twist Collective, by going here.