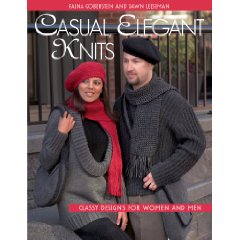 Dawn and Faina's blog tour, for their new book, Casual Elegant Knits.
I directed my questions to both Dawn and Faina, who graciously answered all my questions. I think you'll find them as interesting as I did.
---
MM: Thanks for inviting me to be a stop on your blog tour and congratulations on your book. I was wondering if you could start off the interview by telling me about how this book came to be. Was it something you two had dreamed of for a while? Did someone pitch the idea to you?
FG: Thank you, Marnie, for having us over. Well, I could start answering first. The idea of writing a book came to us after our collaboration on some other project. When we tossed some ideas around, it became very clear to us that what we want is to write a book that focuses equally on fashionable, yet casual knitwear for men and women. Then came the planning stage. That was so much fun! During this stage we were trying to pretend what "the characters in our play" will have to wear as they go from work to a different activity without changing their clothes. We had many versions of such activities and the wardrobe was chosen accordingly. After a while, we settled on what you see in the book. We have never seen this particular approach for the book. The idea is absolutely ours.
DL: Faina and I met at the yarn shop where we work part-time. We admired each other's talent and work right from the beginning.
Each of us had some individual ideas for a book, but when we started seriously thinking about writing a book together we had so many ideas that we needed to find a starting point. We began with a theme, then a color scheme.
---
MM: How do you feel your book, Casual Elegant Knits, differs from the other sorts of books available right now? Who are you trying to reach?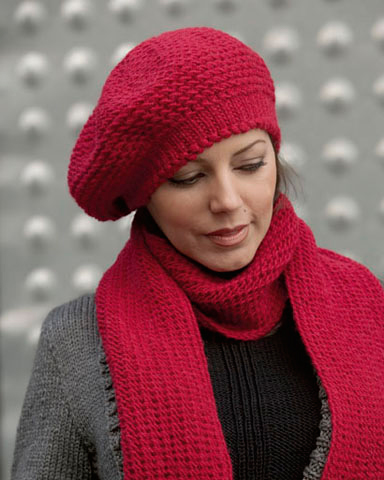 Red Waves Beret
Photo courtesy of Martingale and Company, photographed by Brent Kane
DL: From the beginning we knew that we wanted to appeal to a somewhat broad audience. Working in a yarn store and listening to what the customers like gave us some insight. We also noticed that many publications either write a book specifically for men or go to the other extreme and include 1 or 2 patterns for men. We love the fact that there is a growing audience of male knitters and wanted to include them as well. Nearly half of our book includes patterns for men, which by-the-way, are suitable for unisex as well.
FG: I can also add that we are offering some interesting patterns that are unique in construction for a knitting project, some great techniques. These include the edges on Dawn's felting bags, the construction of my Driver's Cap, the decorative cast-on for the Red Waves Beret and the Vintage Hat, plus some other tricks we have in this book. Our designs are casual, but also elegant and classic. This type of clothing looks good on everybody. So, who are we trying to reach? Everybody who shares with us the taste for classic lines in clothes.
---
MM: Could you tell me a little bit about what it's like to work together? Are the designs dreamed up by one and refined by the other? Or are certain designs mostly one person's or the others? What do you see as the advantages and disadvantages of working in a partnership instead of alone?
DL: Once we had our theme, we were able to plan what garments and accessories go into it. We sketched out ideas and decided on the look we wanted to achieve. The great thing about collaborating is that you have 2 talents and sets of eyes. I feel that we had the freedom between us to approve of the other's design without making any changes or suggest a change and add a thought. We also had the ability to plan the projects and then say to each other: "Do you want to make this one?" While each of us have things we like to work on, we both have the skill to knit almost anything. The projects in the book are basically 1/2 Faina's and half mine, and a couple that were collaboration. We did have full knowledge of what the other was doing and showed each other how things were progressing.
Each of us had a few designs that were worked up prior to our book idea that only required a slight change in materials. I would say that there were no disadvantages to working in a partnership. Our styles complement each other. I would say the biggest challenge for me, when I am working with anyone on a big project like this, is the time element. It can get crazy trying to get time availability, schedules to blend. Both Faina and I are very busy people and at times our schedules were conflicting.
FG: We do work great together. We respect each other as a designer and as a person, so it went very smoothly throughout our two-year work. We worked in my house and spend so much time together, that my husband and I were joking that Dawn is our roommate.
---
MM: Many people who visit my site are designers or aspiring designers. Clearly, you two have many years of designing under your belt. Do you have any tips -- some "if I knew then what I know now" sorts of lessons learned -- that you would be able to share?
DL: Designing is so much more than just thinking up something and then making it. You need the ability to write a pattern clearly and accurately, learn to grade the sizes and to have them tech edited by someone other than yourself. Don't be afraid to have someone constructively critique your work. Have someone test knit your pattern. When using a specific yarn for your design, check with the manufacturers about the availability of the yarn, if they are going to discontinue the yarn in the near future, you will want to choose another yarn.
FG: I actually want to say, Marnie, that during this work on our patterns, I came across your webpage and your incredibly skillful use of Excel program. If I knew your way before I worked on this book, It would make my life easier. I am still trying to find the time to get through your tutorials in a more methodical way, but I am using some of the things I understood already. Thank you for sharing this with all of us. *
---
MM: Your book is devoted equally to men and women's knits. How do you approach these types of knits? Do you have men you tap for input to ensure the piece will be well received?
DL: First we had our own opinions about what we like and dislike in men's knitwear. Once we had our ideas we would ask Simon, Faina's fashion conscious husband, what he thought. We valued his input and wonderful taste in men's fashion.
---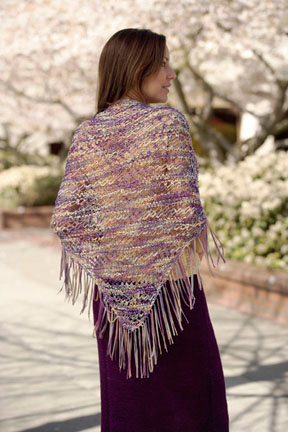 Watercolor Shawl
Photo courtesy of Martingale and Company, photographed by Brent Kane
MM: Do you have a favorite project from the book? Can you tell me a little about the inspiration?
DL: That is a very hard question to answer, ONLY ONE? I guess I would have to say that my favorite piece that I designed would be the Watercolor Shawl. I had designed this a few years ago for myself. I love the way the texture and stitch pattern play together. For the book there were a few minor changes to the original pattern.
I love Novelty yarn and I love hand-dyed yarns. Fiesta yarns are great for both. When I first saw Gelato I just knew I had to make something. As I played with the ribbon and an open work lace pattern it seemed that a shawl would be perfect. I also decided that I would like to have a bit more texture, but did not want to double the yarn. I tried alternating 2 rows of Gelato and 2 rows of Rayon Boucle in the same color way and loved the effect. It reminded me of an impressionistic style watercolor painting.
FG: Out of my designs I love my Driver's Cap. I love details, construction challenges, finding the right combination of stitch pattern and the yarn. This hat encompasses it all for me. The inspiration for this hat comes from my love of a good hat on a man. I grew up in a fashion-conscience environment of a large European city where men always wore hats. This is one of the styles that many can wear. Dawn had a warm feeling toward this hat as well. Her grandfather used to wear it.
---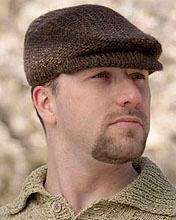 Driver's Cap
Photo courtesy of Martingale and Company, photographed by Brent Kane
MM: Was there a design you found particularly challenging to work out, in this book? If so, why?
DL: For me , the most challenging project was the Triple Pocket Bag. The challenge was to find the best way to add structure to the inside of the bag. It ended up being a matter of a trip to the fabric store and learning about what products were available and what would work best with knitted fabric.
FG: The Driver's Cap for me for the construction reasons. I had to design it twice to get what I wanted.
---
MM: Well, I want to thank you for your time and wish you luck with your new book. Is there anything else you'd like to share with my readers about the book or your process?
FG: Thank you, Marnie. You had very interesting questions. I think we talked too much today. [Note from Marnie: Not nearly enough, it's been so interesting.] We do have more to say, but we will save it for some other time. Marnie, could you also tell us about your new ventures? What are you designing? I know you are always up to something. Your designs are beautiful. I am a big admirer of your designs.
---
MM: So sweet of you to ask. I'm finishing up my newest free pattern, Assets of Evo, and from there, I hope to get up a new tutorial on colorizing your sketches in Photoshop and using the tools, in the program, to play around with colors. It's really encouraging to know that even established designers find some of my tutorials useful and I really appreciate your kind words.
FG: Well, good luck with all your plans. Thank you again for hosting us today. We will have to go to Finland tomorrow to visit with the designer Mari Muinonen (Tikru) of Made By Myself . We will be talking further about the design process there. I hope your readers enjoyed our conversation as much as we did.
* I swear I didn't pay her to say that.