---
*Sigh* I had so much fun this weekend that I'm all the more sad it's Monday. On Friday, Leo and I watched bad movies while I spun up my batt of sparkly BFL that I got from Amy back at the Fiber Frolic, in Maine.
Photos never do sparkly things justice, so take my word for it, when I say it looks lovely without being garish, almost like it was lightly sprinkled with silver dust. I spun the singles up and then plied it into a 3-ply using the Navajo plying method. The photos are pre-wash and thwack. I have about 98 yards of approximately DK weight yarn. I will definitely work this into something, but what, I'm not sure.
---
On Saturday night, we celebrated a friend's birthday by going out for dinner and playing pool...very very poorly. If any of you watch the American version of The Office, it's like when Kelly and Pam played ping-pong. That certainly didn't take away from the fun.
Actually, it probably made it more fun. The best part is, I got to flip off a hummer.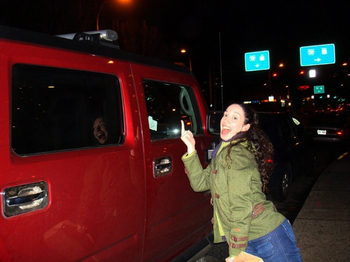 Awesome.
---
If that weren't all good enough, on Sunday, we packed up the girls (who were feeling plenty stir crazy with all the rain we've gotten) and headed to Mt. Hood for a good hike in the snow.
See all the pictures here.