I may have mentioned before that El Matchador had gone into the Spinning Wheel Protection Program after being downed in an unfortunate drive by puppy incident. Even before that, there were some slightly off things about my dear wheel that I have worked around but have always known were not quite right. For one thing, the flyer had a tenancy to come loose from the front maiden, but there also seemed to be a bit of play around the axle of the wheel.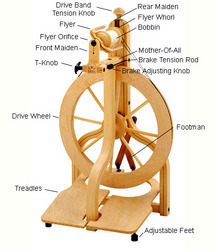 When a friend of mine posted about taking her Matchless to the Schacht headquarters for repairs, it got me thinking. Obviously, I don't have the luxury of driving over to Colorado, El Matchador in tow, to get a tune up, but I thought there might be a local resource who could handle my concerns.
It's probably worth mentioning that, having gotten my wheel on eBay before I knew much of anything about spinning on a wheel, the whole thing seemed more like voodoo than anything to me. Every time I use him, it becomes a little more clear to me how it all comes together but mostly I've thought of my wheel like my car. I can change a few key items but I don't want to get all crazy and start making expensive mistakes.
I contacted Schacht and asked them about Portland area resources for Matchless repairs. They were very very nice and wrote me back to say that they didn't have any resources for me locally but that I could ship El Matchador to them and pay the $45 an hour fee + parts (generally not more than 2 hours) or I could try to describe the problems or send photos and see if we could work through the issues that way.
Well, my friends, I'm not a cheap person but I'm not exactly rolling in dough, either. When my wheel was shipped to me, the UPS cost for packing and ground shipping was upwards of $70. With an hour or two of labor plus parts and shipping back, and I feared I'd end up spending more than I paid for the wheel. On some level, that would be fine, if it were really needed, but I had an inkling that my problems weren't substantial enough to warrant such extravagant care (no offense, Señor).
So I pulled the boy out and began to give him a once over.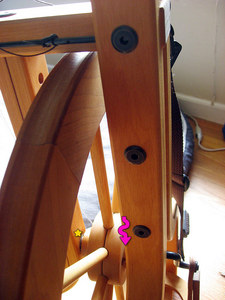 Where that little yellow star is, the axle for the wheel had come loose a bit. I bumped it back into place. There was still a lot of play where the squiggly arrow is, so I walked around the back of the wheel.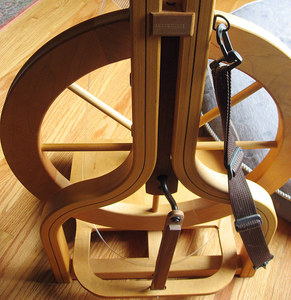 That dark wood inset was very loose. What to do? Is the part worn away? Do I need a new one? To anyone who is familiar with their wheel, this might not be such a big thinker of a moment but for me, it took a few moments to realize how easy (and cheap) the fix is.
If you look back at the second picture, you'll see a column of screws with hexagon shaped slots. A quick riffle through Leo's allen wrenches and I had a match.
I aligned everything where I wanted it and gently tightened the screws. I figure they cannot be too tight, seeing as they press against wood, but that it needed to be snug enough to hold everything in place.
And that flyer issue? The same allen wrench taken to a screw in the front maiden, sorted that all out. I tightened it enough so that it would hold the flyer more securely.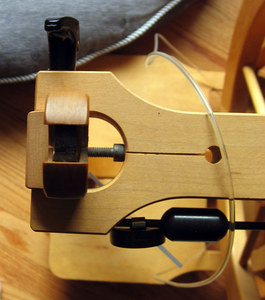 El Matchador now runs better than the day he arrived at my home. And should he someday need major repair work, I'll happily pack him up snug and safe and ship him to Schacht. For now, it's good to have him here.