Or, a long winded discussion of some swatches
In my post, yesterday, I mentioned having a quick trip out of town. Since the trip was both short and stressful, I didn't take along Lily, which requires a certain amount of concentration. Instead, I decided to take along some swatching. There are times when there is nothing more satisfying than the joys of mindless swatching to keep the fingers and brain occupied. It was just what I needed.
For my swatching pleasure I brought along two items that were new to me. First was a Mary Thomas book of knitting patterns that I picked up at the Blacksheep Knittery sale, at Kat's suggestion. While the Barbara Walker books will always be my most comprehensive collection, they also represent the most ubiquitous stitch pattern selections and it can be refreshing and inspiring to try others.
For yarn, I brought a couple skeins of Tahki Stacy Charles' Dream.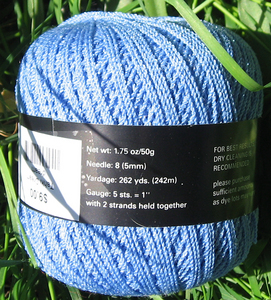 This is a really unusual yarn and I feel like Tahki doesn't quite know what to do with it. Click that ball band to read the label. It recommends a US #8 needle for a yarn that I would classify as a very light sock weight. Of course, if you read the whole label, you'll see that it recommends doubling it.
This, in and of itself, doesn't bother me, but it does bother me that the band doesn't specify a gauge for a single strand. If the company does not like the yarn as is, why not have the supplier make it with more plies? What is the point? The patterns offered all use it doubled or carried along with another yarn. Yet this yarn has a great deal of interest when knit up by itself.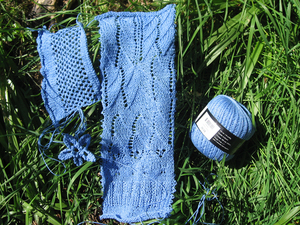 I began knitting the big swatch, starting with some stockinette, then 1x1 ribbing, then 2x2 ribbing. Even knit on US #3 needles (less than half the recommended size for the yarn doubled) I found this stitches too loose in these patterns. Instead of trying to wrangle the yarn into these sorts of stitches, I started to play around with lace.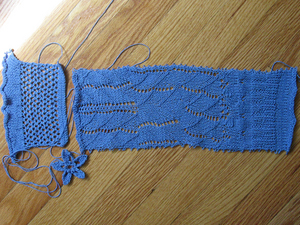 I worked a short length of a fun drop stitch pattern I found, but didn't feel it suited the yarn. Finally, I ended up on a stitch that, while available in one of my BW books, I had never used because of it's strong directionality.
Ms. Thomas recommended reversing the stitch to counteract the biasing, if desired.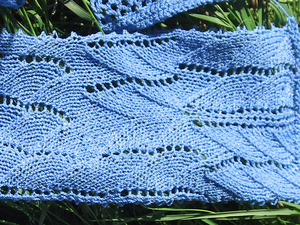 So I worked a couple inches plain, a couple inches working it as written on the right side of the fabric, and reversed on the left. Then finally I knit it reversed on the right side and as written on the left.
The wool and nylon blend yarn has beautiful stitch definition and blocks out nicely. If one were to stack the two balanced versions on top of each other, the effect would be one of a lovely leaf motif. Worked individually, they give the look of feathers or scales. It's not unlike the stitch pattern I used for Wyvern, only employing yarn overs instead of increases.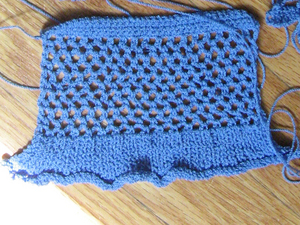 I started a second swatch in mostly crochet. With a steel crochet hook, I worked some single crochet and a simple mesh stitch, followed by a bit of ribbing worked on a US#1 needle. The difference in hand between the large swatch, knit on US #3s and the smaller swatch, crocheted and knit with a smaller needle, is quite noticeable, as one might expect. Where the first is airy and light with a nice drape, the second is dense and solid, with more body.
With the first swatch, I envision a very delicate short sleeved cardigan to be layered with a simple camisole. The latter I see worked into fishnet-like knee high socks. Both the nylon and wool have some memory and stretch which would make the socks quite fun and practical.
As a side note, in an already rambling post, I would definitely knit the toes, heel and ribbing on a crocheted sock. While I think the mesh stitch would work great for the instep and leg, I think the knit stitch is more suitable to those elements of the sock than crochet.
My last little swatch is Mary Thomas' knitted rose motifs. As she points out, they are attempts at reproducing Irish crochet in knit stitches. These are made with a series of cast ons, picot bind offs and garter stitch.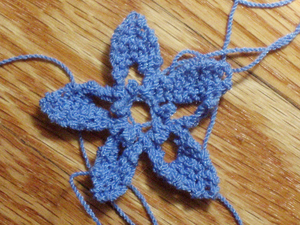 It was fun to try, but personally, I enjoy crochet enough that I wouldn't spend the time to knit the motifs. It's a bit fiddly compared to crochet, though if you hated to crochet, you might enjoy it.
Are you sick of reading about Dream yet? If so, here are some shots of my cute girls.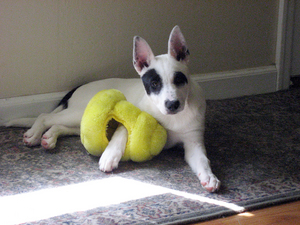 Thea hanging with her Hide-A-Bee hive.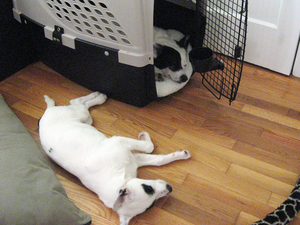 And Panda commandeering Thea's crate for nappies. Panda has done wonders for Thea's crate training.