Last night, Leo and I met up with a local group who tries different restaurants in Portland, every two weeks. This time, we went to Eleni's Philoxenia a Greek WONDERLAND of food yumminess. Great googily moogily, this meal was good.
After eating ourselves stupid, and smelling not unlike Gilroy, California, we went for some Salsa dancing at Andrea's Cha-Cha Club. When I say "we" went salsa dancing, it's in the royal sense. We don't salsa dance, I salsa dance. Leo mans the camera and tends to the people watching.
While I doubt the eau de garlic was a scent my dance partners hoped would be wafting over them, I couldn't help but have a grand old time cutting a rug.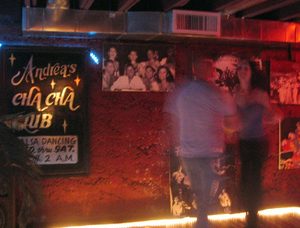 I kind of think this blurry one is the most flattering of the bunch.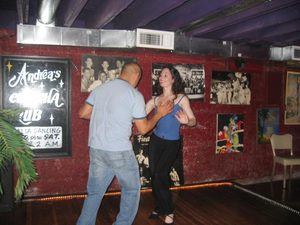 I guess this one looks a little bit more like it's actually me.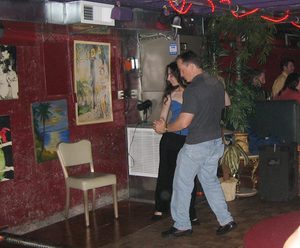 Dancing a cha-cha. I had a little trouble following this guy's lead and he kept insisting on counting aloud. It was a little bit of a train wreck.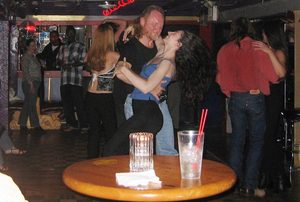 Despite his mullet he was a very good dancer. Oh and he has a mullet, my god, I haven't seen one of those since New Hampshire!
We danced until about midnight before calling it quits and heading home to bed.
While Andrea's doesn't have quite the crowd I remember from my favorite Salsa clubs in Boston and LA, it comes as close as I've been able to find since coming to Portland. We've hit a few other spots that are nicer to look at but lack the sort of regulars that can really hold their own. Apparently, Tango is rather popular here and I may have to give it a shot, but for now, I've found a place to get my salsa fix.