Let me start by saying, if you have any regard for me as a mature woman of a refined wit, even after this post, then you:



Don't know me very well.


May work with me.


Probably should just disregard the rest of this post


But for the rest of you, check out the post, after the bump.
So in my post about Babe, I marveled at the anatomical correctness of the monument. Though there was certainly some abstraction, we all knew what we were looking at. But Miriam mentioned that there was a 10 story high banner in Utah commemorating a previous winter olympics which put Babe to shame.
I asked (or maybe begged) her to get me pictures after she mentioned that she wouldn't quite feel right about posting them on her site. I said I'd feel no such reservation and would be happy to credit her as the photographer (I'm not sure if that was actually a selling point or not). And here are the fruits of her labor.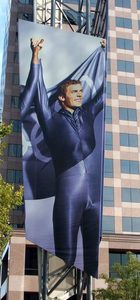 *Ahem!* My at that scale, there certainly isn't much for the imagination. Go ahead and clicky if it's not clear what I'm referring to. If you are going to be in Utah, you can find him in downtown Salt Lake City, right by the Gallivan Plaza Trax stop.
Now, I'm no photo retouching expert, but for a city that makes it darn near impossible to buy a beer, you'd think they'd consider a airbrushing on that one. Here's what I did with 5 minutes and some Photoshop.