I love my new wheel. I just feel I need to say that, in case it needs saying. El Matchador and I have been spending a lot of time together lately and these are the fruits of our loins labors.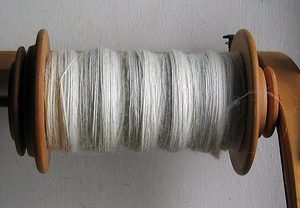 First, about 500 yards of the mystery white wool I got from Greenwich Yarns. This was spun up at a fingering weight, more or less. It's fairly consistent but with a few thick spots and some areas that are probably closer to a lace weight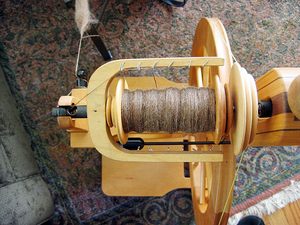 And here is probably 550 yards of Alpaca/BFL that I bought on the road trip. This stuff wanted to spin up super super fine. I think it spun up mostly at a lace weight but there are points that were basically thread weight.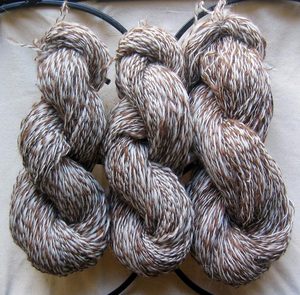 When I paired them, the result is nothing you would ever want to buy, but I love it. I really think that knit up, it will look fine, but there's no doubt these skeins have "character" in spades. I think you can see how inconsistent the plying is in these pictures, what you can't see are the various repair jobs for breaks and occasional run away ply that plies on itself, making little appendages. I think I only have one or two, but they are in there. With nearly 500 yards, though, I should be able to make a little something special out of my yarn.
Yesterday, I picked myself up a few extra accessories at Pacific Wool and Fiber. All they had were high speed bobbins (and only two of those) so I grabbed those and a fast whorl and will begin my adventure with those this weekend.