With my first skeins of yarn completed, I'm ready to expand my wheel horizons. Thanks for all the encouragement and kind words towards those humble skeins. I have no idea what I'll knit from them (too much deadline work right now to think about it) but whatever it is, I expect to cherish it for it's significance. In the mean time, when I'm not knitting away on my projects, El Matchador and I are making sweet whirring music together. First, I attempted to spin a few thicker skeins of yarn. Admittedly, my first roving choice was poor. It was a Merino blend that, I think, had felted ever so slightly, making it a real bastard to draft. The result is the beautifully dyed but poorly spun specimen on the right.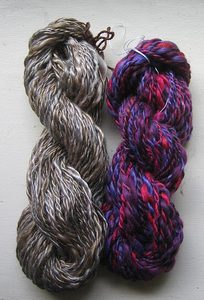 My second attempt was with more of the roving I spun up recently on my spindle. The results (on the left) are still a little rough, but much improved over the first skein. Both are relatively balanced and neither has been washed and hung to dry, which would probably smooth out their appearance a little.
I used an Andean Ply for both so I could spin up a small amount and not waste any trying to get two bobbins perfectly matched.
After remembering that I don't like knitting with thick yarns and so should probably focus on worsted or lighter weight yarns, I opted to pull out an old favorite
and finish off my stash of it. It's weird to me that my spindle spinning is so much more controlled and even, but this practice is good for me.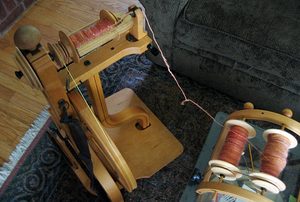 I spun up two bobbins, partially full and am plying them now.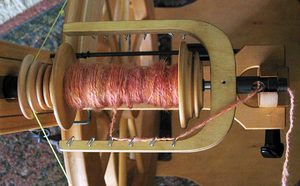 And because you can only look at so much yarn spun up by a novice, Panda wanted to give you a little pearl of wisdom. She says:
"If your parents take forever to unpack your toys, you must play with all of them at once, when you finally get them back.