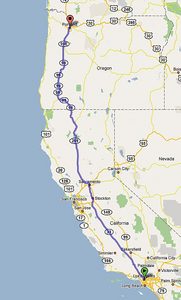 Really, though, maybe it should be:
This Californian is becoming an Oregonian
or
This Angeleno is becoming and Portlandian if the Oregonian variety (so as not to be confused with those Portlandians of the Mainenites variety).
But I'm splitting hairs here, the point is, Leo and I are moving to Portland Oregon. Leo goes up on Monday to start a new job on the 7th.
It is not without some apprehension that I go. I've lived in Los Angeles for almost 5 years and I have met so many wonderful people, a few of whom, to my delight, even count me among their friends. As I'm predisposed to hermit-like behavior, this is no small feat, in my mind. I will miss them terribly.
Yet, I also look upon all this as an exciting opportunity to start fresh and new and discover an area I've never been before. What? Didn't I mention that? Oh, yah, neither Leo nor I have ever been to Oregon. I'm not averse to change, and I love exploring new cities. It's scary to know I'll be jobless in a month, but with rents half the price of the LA area, I can pretty much sell hemp jewelry on a street corner and still contribute my part to the household expenses.
I've already checked and it appears there are several yarn shops in the Portland area. And those cute little Pygoras from a couple days ago? They hail from Oregon, which bodes well for my spinning future.
So if any of you who live, have lived, or frequently visit Oregon, have suggestions for me, please send them my way.
I'll do my best to keep posting during the transition, but with our home computer going up north without me, and with all the upheaval, I make no promises, expressed or implied, that blogging will continue as normal.