Who knew moving to Portland would garner me so many comments? It's almost frightening how many people love the city and how few bad things people have to say about the area (rain and you can't pump your own gas, I think I can live with both).
There are so many of you I need to write back to. I can't believe how many great suggestions you've sent and warm welcomes you've offered. I'm really looking forward to moving.
I don't arrive in Oregon until the end of August, and in the mean time, I hope to be able to see all my LA friends, so I can say goodbye.
But enough of that, take a look at my yummy pygora yarn.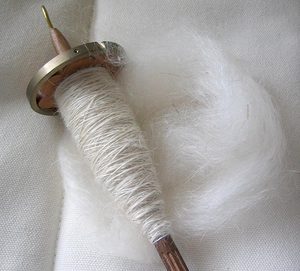 Here it is almost completely spun up. The kit comes with half an ounce (about 14 grams) of each fiber, so that's just enough to fill up one of my smaller spindles.
I simply loved spinning this stuff. I don't know enough about the properties of various fibers to say why, I just know that whatever it is, I'm able to spin it up superfine, balanced, soft and with a bit of loft.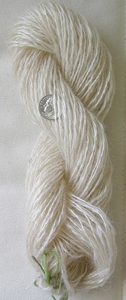 I've included a dime for scale. The yarn is a two ply and check this out...
Balance, baby!



This hasn't been washed yet, it's right off the spindle. I have just shy of 54 yards (49 meters) of yarn here. Since pygora is aplenty in Portland, I plan to get more soon.
I've now started spinning some of the Yak fiber and it's not going quite as well. It's more poofy and fluffy and I don't quite have the best technique for managing that sort of fiber. It's gotten better as I've worked with it, but compared to the pygora, it's pretty crude looking.
In a little while, I'm off to Blogher, then a visit with a friend in San Francisco, then back home to help Leo pack up the truck. It's quite a weekend, indeed.