I've been cranking away on Leo's sweater, which I simply must find a name for since it's early stages bare a striking resemblance to someone else's sweater for a Leo. I am happy to report that while my Leo will be wearing a ribbed sweater, I have not accidentally designed a piece that is nearly identical to that one. But I do believe that the two men are cut from the same cloth (or should it be; knit from the same yarn.)
So, for the start of the sweater I cast on of about 120 stitches, and worked in ribbing for about 120 rows. In the world of exciting things to do, this rates at about a -3. But, we are at the early stages of knitting this piece and, like a relationship, the things that may annoy or bore me later, are simply delightful now.
So knowing that the thought of casting a new piece may feel like torture, by the time I finish the back piece, I've decided to leverage my existing enthusiasm and get the most tedious bits out of the way first.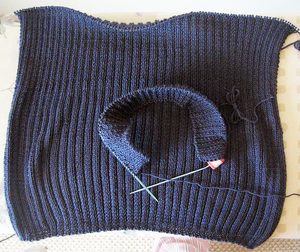 So there is the back, knit up to the armsceye, with the front, cast on and knit for a few rows, sitting on top.
I gently blocked the back so you could see the fabric as it will be when completed. The first inch of each piece is knit on a slightly smaller needle so that the bottom edge won't flip out in some wonky way.
Now, when it comes time to knit the rest of the back, it won't seem quite so dreary. I'm thinking I'll need to knit both sleeves at the same time as well, to rid myself completely of second sleeve syndrome. Some people find knitting the sleeves first to be the best remedy, but in a man's garment which will be knit rather long, I suspect that this portion of the knitting will be the hardest to find motivation for. Time will tell if I'm correct.
I've also been spinning a little. I actually completed this skein several days ago.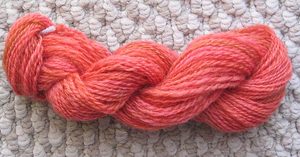 It's the Redwood colorway from my Spunky Eclectic haul.