Last we met, we learned all about my insecurities and short comings. Yay! It appears I've unveiled some kindred spirits in the process. I'm sure if we all took the Myers-Briggs Type Indicator test, we'd find ourselves scoring largely the same. But that's not what this post is about. I thought I'd tell you more about that hat I had mentioned.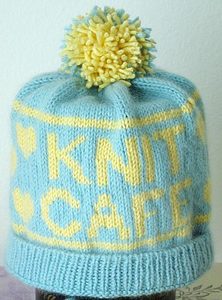 It sort of came out of nowhere, huh?
Get the whole story, after the bump.
The owner of the Knit Cafe asked me if I'd knit her a hat in time for the...what's it called...megabowl? supercup? grandslamfest? Oh, you know, that day when all the good commercials come on.
I try not to take on too much commission knit work. I'm pretty conscious of the fact that when I feel obligated to knit something, it takes out some of fun, but this didn't seem like a huge commitment and I hadn't done any knit for hire in a long time. So she provided the yarn and the general instructions. It should say "Knit Cafe," have a folded brim and a pom-pom on top. With that, I was on my way.
I considered just doing "Knit Cafe" across the front and calling it a day, but since the hat is for a knitter, I really figured it should be in the round, which means working a motif or set of motifs, entirely around the hat. So, after plotting out the gauge and then charting the number of stitches, I came up with hearts for filler, and the store name on the front and back. That meant two distinct motifs repeated twice; name, hearts, name, hearts.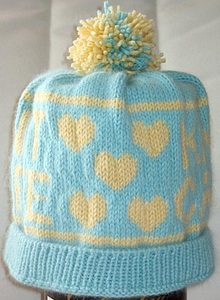 Are those hearts cute or WHAT? I love them. A note to any of you considering a hat design like this. As you may know, circular knitting + colorwork = jogs unless you plan carefully. I think all techniques for avoiding that little stair step between rows, fall a little short of perfection, but most will certainly get you close. To improve the situation, I started and ended each row at a point where I'd never have a color change.
In this case, there were columns of just blue stitches between the hearts and the store name, the rounds started and ended there. That meant the only potential jogs were in the stripes above and below the motifs.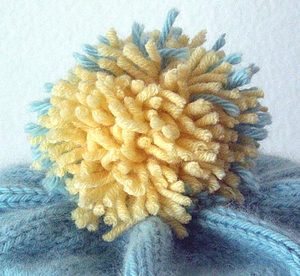 I got a little funky with the pom-pom too. Instead of doing a solid one or an evenly dispersed two-color one, I first wrapped my homemade template with one strand of each color and then wrapped the template with just yellow. This produced a cute effect, I think.
I felt like the coffee can wasn't really doing the hat justice but I wasn't entirely motivated to get myself camera ready, so I took a dozen or so really crappy pictures of myself wearing the hat and this was the best I could come up with.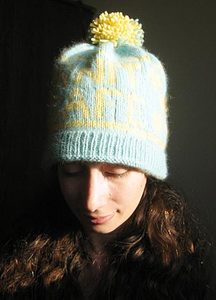 I call it "Disembodied head in hat" the print will be available at posters.com, next to the Unicorns and the Babies Dressed like Animals and Food.