My Nods to Jaywalker are done and here be the pattern notes.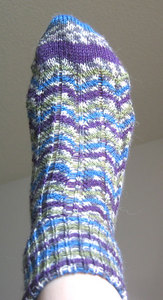 Pattern: Nod to Jaywalker
Designer: Me with inspiration from Grumperina's Jaywalker
Yarn: 48 grams of Lang Jawoll Jacquard 159. However, I needed a little bit of a second 50g skein in order to complete the socks because I lost some amount of yardage matching the stripes of the two socks.
Needles: US #2 set of 5 DPNs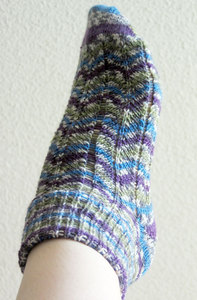 About: The sock is a standard toe up design with both a short row toe and a short row heel. The chevron is made of sets of paired increases and decreases which, to my eye, give a slightly softer look than the more defined chevron used in Jaywalker. This is in no way better or worse, just different, you know?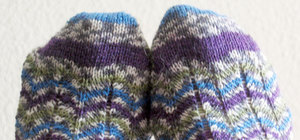 The socks are technically a touch too small for me, circumference wise. I worked off my stockinette gauge instead of the gauge of the chevron, but I don't mind it. It doesn't bind at all, it just stretches a bit between the chevrons.
I used a tubular bind off at the top and did so with complete disregard to where the row technically began and ended so I'd have a very deliberate looking last stripe. I think this helps prevent the slight irregularity of self patterning sock yarn.
What the heck am I talking about? Well, instead of waiting until I got to the end of a round to start the bind off, I knit a complete round of my last color (purple) regardless of where that purple color started in the round. When every stitch in the round was purple for a single round, I began the bind off from there. I think this is a nice way to finish these self striping socks. The sock on the left is at that point where I'm about to begin the tubular cast off. I'm mid round, but it doesn't matter because it's where I have a single complete purple round of stitches.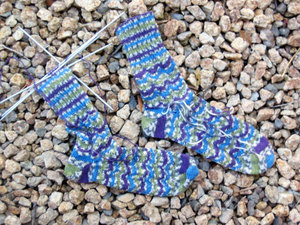 I did something similar with my Peppy Long Stockings only with those, I knit until I completely ran out of the red shade and then did the tubular bind off with the yellow. The effect was not so good. It gives just dots of yellow across the top instead of a nice clean stripe. It just doesn't look as purposeful.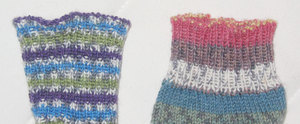 Sorry for the crappy photo. It got dark when I was thinking you might want to actually see a picture of what I meant.
One might ask, "Marnie, why not just bind off at the end of your color stripe of choice, so that the stripe is the same width as it appears throughout the sock?" That would be a splendiferous idea, indeed, but it does pose a challenge. It would mean plotting the exact point where you'd have enough yarn to perform a tubular bind off without going into the next color. It could be done, but would probably require some frogging which is not so fun with tubular bind offs. In the end, the stripe would probably still be off by just a smidge, so why not make it look like you bound it off that way on purpose?
Of course, all these points are moot if you forego the tubular bind off for a more traditional bind off. In that case, frogging is much easier and it may make sense to try to plot the bind off to use up almost the complete last stripe. Just note, you still need to leave a tail to weave in and it should be a tail that matches the area around it.
So the socks are done and I'm working on my silky wool project until I begin some work on a certain someone's book. More on the the former soon. For the latter, you'll just have to wait.