You'll have to excuse the bad photo, Leo has the camera today and so I had to use my phone.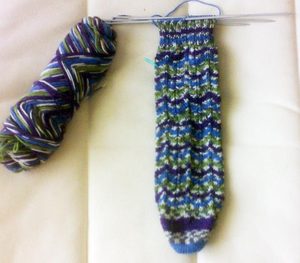 This is the sock I started on the flight out to India. I call it "Nod to Jaywalker" because it uses a similar stitch to Grumperina's Jaywalker. The scale of the pattern I used is quite a bit smaller and the increases and decreases are paired unlike Grumperina's which uses double increases and decreases. This sock will have a ribbed fold over cuff, which is what I'm working on right now.
Oh and if I see out of sorts lately then:



You are very very observant, or stalking me.


It's because I'm sick and partaking of an at home pity party of one.


I was wondering why I was having such a hard time re-acclimating. I mean, I expected to be tired, but I was nearly useless. It hit me the night before last, but didn't seem too bad, however, as the work day proceeded, I just felt worse and worse. But the end of the day, I could hardly talk and was switching between bouts of sweating and bouts of chills. I had a meeting and the consensus was that I looked like hell. I've been joking that it's SARS or Avian Flu. Everyone loves hanging out with a sick person who just got back from a developing country.
So as a courtesy to everyone else, I'm taking it easy today, being well attended to by Miss Panda and all the cold soothing remedies that Leo hooked me up with last night. Go DayQuil Go!