Well, your collective response to my inquiry about that slouchy cowl in my last post was so great that I got right to writing the pattern. My beta reviewers are looking over the very rough draft and then it's off to the tech editor early next week. As per most of my for sale patterns, it'll be offered in 12 sizes and have plenty of tips for getting a good fit. I hope it'll be well received.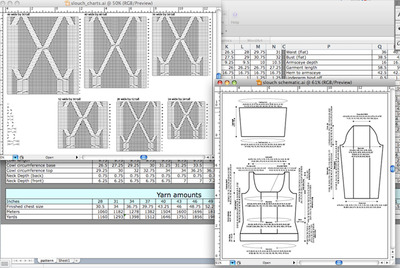 It took a while to get the charts, calculations, schematic and text together, and I still need to get some detail shots and start the layout, but I've taken the summer off from classes, I don't have any design deadlines, and the most time consuming parts of the move are done so I actually had some *gasp* free time! I'm trying not to get used to it.
I've even had a little time for some more knitting
The yarn is some of the singles I spun during the Tour de Fleece. It started off looking like this.
It's going to be a rectangular wrap but I think it'll be coming up a little shorter than I'd like so I've set aside some possible yarn with which to trim it.
And, since I've been doing cable charts for this project, I'm thinking about doing another illustrator chart tutorial. I just need to find the box the microphone.