I've been working on lots of little things lately. There's a bigger item on the needles too, but I haven't had the time or mental fortitude to tackle it recently.
Firstly, the handsome one has been subtly hinting that he needs more hats. And by subtle, I mean he's been saying, "I need more hats." Leo wears beanies almost every day, and his favorites are soft, wool-free, and in a neutral colorways.
Worked in Frog Tree Pima/Silk [85% pima cotton/15% silk] this little beanie bears a striking resemblance to the Carlsbad hat, only worked in a larger gauge.

I need to get a shot of him actually wearing the hat. Right now, this dark, blurry shot of Leo (and the hat) watching me teach Madeline to salsa dance, is the best I can offer.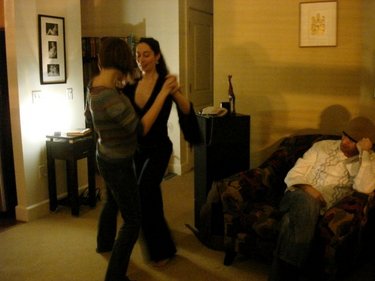 Hey, you celebrate your birthday, your way, I'll celebrate my birthday, my way!
And now that one hat is done, I've cast on another.
Beanie number two will be worked in solid black (same yarn) and entirely in 2x2 ribbing. This will be a variant of the Pismo hat.
I think Leo will really enjoy wearing these hats, because the yarn is so soft, but the fibers aren't as easy care as some of the other hats I've made, so I'll probably be casting on at least one more design, in 100% cotton.
My friend, Julia, was asking if I put elastic into my cotton hats. I never have and the hats don't seam to be any worse for the wear. Some negative ease seems to be enough for the hats to keep their shape.
On the tatting front, I feel like I'm really getting a grasp of the basic. I'm certainly no expert, yet, but it's all starting to make more sense.
These are the two types of thread I've been using.
The green is standard Pearl (or "perle") Cotton. It's size 5 and seems to come in a huge selection of colors.
The white is Pearl Cotton in size 8, which comes in little balls and is available in a much more limited color range. The craft stores have white, black and ecru, while a local needlepoint store had those and some primary colors.
The latter produces very delicate little lace pieces, while the former really shows off the texture of the tatted stitches. They almost look like little beads, to my eye.
I worked on this while riding the local public transportation and was really appreciating how portable it was. I was even able to work on it while standing, which I find harder to do with my bigger knitted pieces.
Passing fancy? New passion? Who knows, but it's fun so far.