Well, what did we do this weekend?
Let's see, we went to see Harry Potter. They left a lot of important stuff out. It was good, though and if you've read the book, you should be able to follow along fine. I thought that Umbridge bore a striking resemblance to the first lady. I'll leave it at that.
Oh and I went Salsa dancing. That was fun.
What was that other thing?
...
Oh yea, got in a car accident.
That was a real bummer.
We were t-boned, ended up riding on two wheels for a bit, but Leo managed to steer the car back onto all fours. It's amazing how much one's brain processes during all of this. I remember thinking "we're going to roll over" and lamenting that our leftover sushi might have spilled.
Everyone from both vehicles is fine, short of a few bruises and aches. In hindsight, it could have been so much worse and luckily, we didn't have the pups with us.
Here you can see the wear on the tire from those few (mili?)seconds we were on only two wheels

And here is a view of the damage to our car.

All things considered, the damage is not as bad as it could have been. None of the windows broke, the engine seems untouched. The suspension is all wonky, but that's to be expected. Otherwise, though, I would say that the Element proved to be a darn fine car when we needed it most.
While the door buckled pretty badly, at least it closes.

We have a tarp on the car to keep out any rain, but it's better than having to hold the door shut with bungees.
So, yah, most of our week has entailed a lot of filling out of paperwork, but we're thankful to be in good health and able to handle the situation.
The girls are just glad we made it home in time to feed them dinner.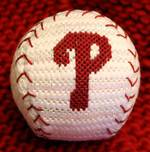 In unrelated news, for those of you from the Portland area, Wendee has asked me to get the word out about the upcoming Seattle Stitch n Pitch. $45 gets you transportation, a ticket, and a bag of Lantern Moon goodies. Oooh lala. If you are interested, contact Diana at dianaATlanternmoonDOTcom, ASAP. Only 20 tickets left.