Warning! Politician banter ahead. You definitely don't have to agree with me, but please play nice.
So anyway, my brother, his girlfriend and I met up for dinner and we were waxing politically, as we are wont to do. I asked the question, "Hey, you know that whole Sodom and Gomorrah thing? Why did we get "Sodomy" but not "Gomorry"? And that's when it occurred to me. We need this word.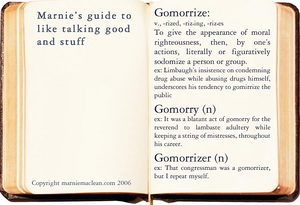 Click the image, or get the full definition after the bump.
In the mean time, I say we all start using the word. No, it isn't just a liberal thing, apply liberally (or conservatively, or even judiciously) as needed. Got an out of control school board? Is your mother really irking you? Did a crappy driver cut you off and then drive 10 miles under the speed limit? This word is free for any of the many uses you might find.
Gomorrize:
v., -rized, -riz•ing, -riz•es
To give the appearance of moral righteousness, then, by one's actions, literally or figuratively sodomize a person or group. ex: Limbaugh's insistence on condemning drug abuse while abusing drugs himself, underscores his tendency to gomorrize the public
Gomorry (n)
ex: It was a blatant act of gomorry for the reverend to lambaste adultery while keeping a string of mistresses, throughout his career.
Gomorrizer (n)
ex: That congressman was a gomorrizer, but I repeat myself.