I had enough time to make a few spots for the little Dragon Hoodie, before the gift was due to be received. I really like how they look in front.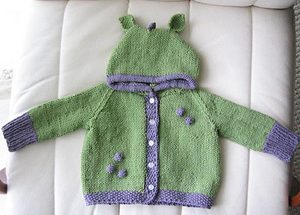 The back of the sweater, and notes on this version of the pattern, after the bump.
Pattern: Dragon Hoodie
Designer: me
Yarn: Lullaby 3 skeins of color Quince, 1 skein of color Ophelia.
Needle: US #9 for body, US #7 for trim, US #5 for ears, crochet hook F for spine
Lullaby knit up at a smaller gauge than my original yarn choice. See the pattern here and the original here. Check your gauge carefully if you wish to substitute the yarn. I found the row gauge was more effected than the stitch gauge.
Because of my rush to get the piece underway, I ended up knitting the piece wide enough but not long enough, so I had to rip out the trim and the cast on edge and knit down from the bottom of the piece. The only other modification I made was to knit bobbles instead of patches for spots. I used Nicky Epstein's Knitted Embellishments for the technique. To produce your own bobbles:

Cast on 1 stitch
Increase in this stitch by knitting in the front and back until you have 5 stitches
Work 3 rows in STst, ending after a purl row
SSK, k1, k2tog (slight modification of Nicky's technique), 3 stitches remaining
Sl 2 as if to k2tog, k1, pass 2 stitches over
You are now back to 1 stitch. Cut yarn and pull loop open to secure.
To attach bobble, thread CO tail through point at which bobble should be secured. Thread BO tail one stitch away from CO tail. Tie two tails together. With one end, tack down the sides of bobble to properly shape and to ensure it's fully affixed. Weave in end and cut. Weave in the remaining tail as well. Repeat as necessary with remaining bobbles.
I kept the bobbles in back to a minimum. They are very squishy so I don't think they'll be uncomfortable for the baby to lie on, but I still think it's best not to over do it. Given more time, I might have added more.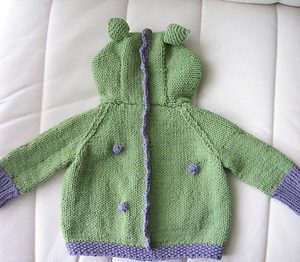 After frogging the trim and re knitting it, this is what I had left of the contrasting color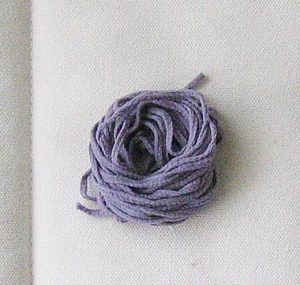 I consider this dangerously close to being not enough yarn. If your gauge is very tight and you, therefore, eat up a lot of yarn when you knit, please consider buying two skeins of the contrasting color, knowing that it may never get touched. If you have a whole skein left, you can always return it, or knit baby a cute little hat with it.
Impressions of the yarn:
This is a wonderful choice for anything knit for baby, from what I can see. I haven't given it an endurance test but fresh off the needles it's very soft, enough so that the mom of the recipient commented on it. The colors are delightful and it's washable, all good things.
From a knitter's perspective, the yarn can split which will cause a bit of unsightly fuzzing. It will catch on any rogue skin cell you might have, so keep your hands and nails filed down at all times, and throw on a bit of moisturizer before knitting. Additionally, choose the most blunt needles you have, preferably metal, if you can stand it. Wood will tend to catch a lot and I've found that plastic needles and microfiber yarn rarely mix well. Your results may vary.
On an unrelated note, check out the t-shirt my best friend got me for Christmas.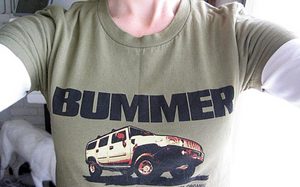 I love it!