On the spinning front, I've been making as big a dent in this as I can.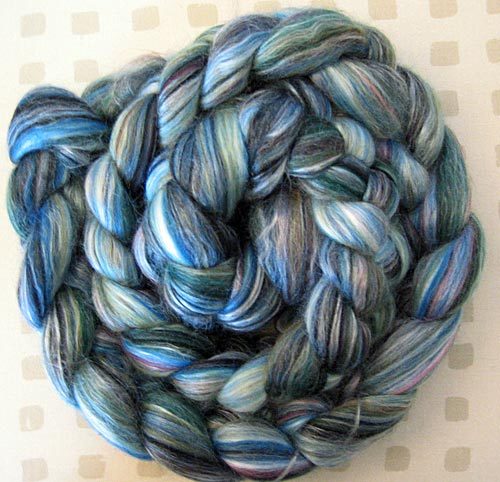 That's my merino silk blend roving, which I've been spinning for a while now. I went back and forth, trying to decide what I'd knit with it, but I've decided to use it for this. Right now, I'm attempting to design my own shawl. I should note that I've never designed a shawl before, but hey, the worst that can happen is I make a less than stellar, piece. Who hasn't done that before?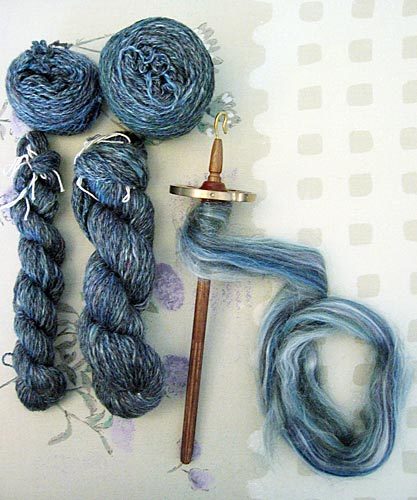 Here is everything I've spun to date. I would say these photos are fairly accurate in showing the texture and color. I'm rather surprised at how much I've spun without getting bored. That braid at the top is about 5.8 ounces and the stuff on the bottom represents about 1.5 ounces. There has probably been another half an ounce of various problems, frustrations, knit swatches that wouldn't come undone and the like. We will speak no further of those.
So far, my experience with spinning this fiber has been good. There are occasional slubs of the merino content. Sometimes they are easy to pick out and sometimes they become "features" of the yarn. Otherwise, the spinning is fairly easy if rather imperfect. The silk content makes drafting smooth and delightful but not very even and it occasionally gets away from me. Since I haven't actually started the piece, I simply spin when the mood hits me. I may be more flustered if knitting is held up by spinning. We shall see.
Either way, it has to take a back seat as it is "that time of year" (which should be said in a most ominous tone) so there are other projects that take priority.
By the way, I'm so happy that a bunch of you left a comment to assure me that you still manage to make it to my site. My bloglines account hasn't shown a single new post for me since I switched to MT, but if at least a few of you are still stopping by then I'll keep posting away. I have fodder for several more posts, already.