I think I may have spun a balanced yarn. I'm not sure here, I'm still a relative novice, but fresh off the spindle, after plying, it appears to rest pretty comfortably, without twisting back on itself.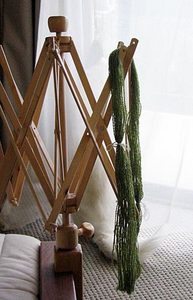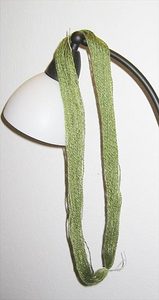 This is some of the beautiful green merino and silk roving my parents sent for Christmas. I haven't washed it and hung it yet and it's still seems to be hanging in a manner that would suggest it is balanced. I didn't mean to but there you go. After taking the pictures, I gave it a quick soak, so it'll be knit ready by dinner time.
More pics after the bump.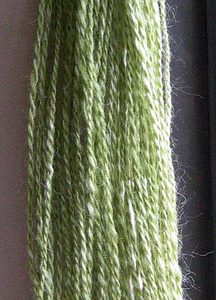 Here's a close up of the finished yarn. It's not perfect but it's as consistent as any yarn I've spun to date. What makes it even nicer is that both MJ and Andrea spun a few inches of it while we were all hanging out at the Knit Cafe.
And because I'm an insane doggy mommy,
Don't judge me
I forced Panda to model my handspun. Both of these photos should be captioned, "Why dogs attack."