I can't believe an entire month has passed since we launched the new edition of Twist. Between losing Panda and seemingly-unending home repairs that started in May with an attempt to get the house repainted and turned into an endeavor that required a carpenter, roofer, electricians and new decks, all before the painting could even begin, it's been hectic, to say the least. My poor little blog never stood a chance.
But the new edition of Twist is still waiting for you, if you haven't seen it yet and as always, I feel genuinely privileged to have a place in its virtual pages.
My first of two patterns is Lithograph a half-circle shawl design worked in twisted stitches and lace. For the submission process, I made a mini-prototype to show how the increases would blend into the background of the latticework.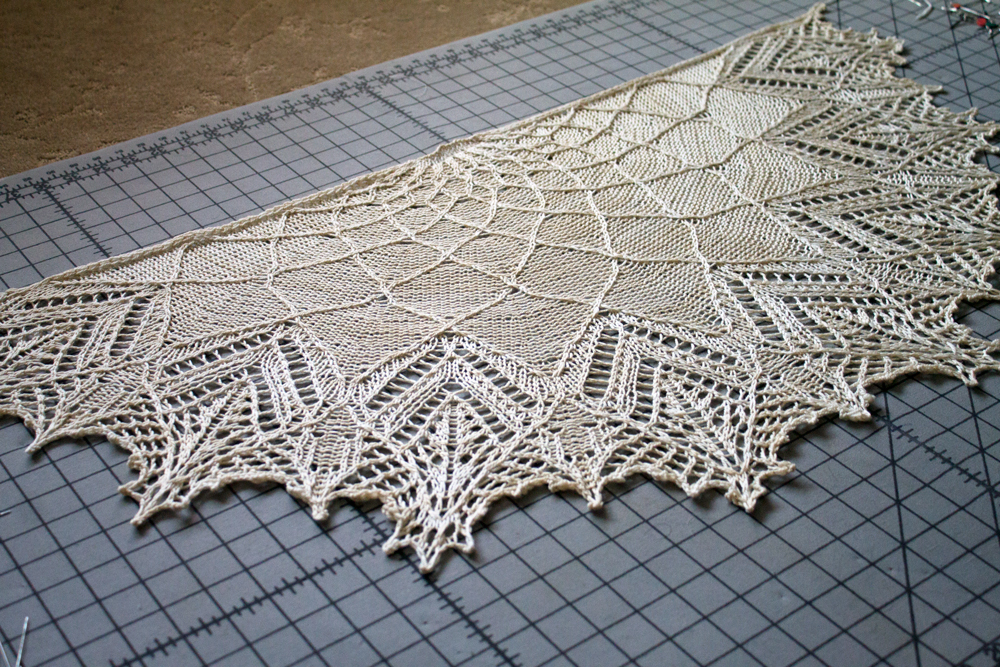 The final shawl is worked in Lisa Souza's Polwarth Wool and Silk yarn which is a breeze to work with and so lovely to touch. The silk gives it plenty of drape while the wool gives the piece some substance. It's a perfect choice for this pattern.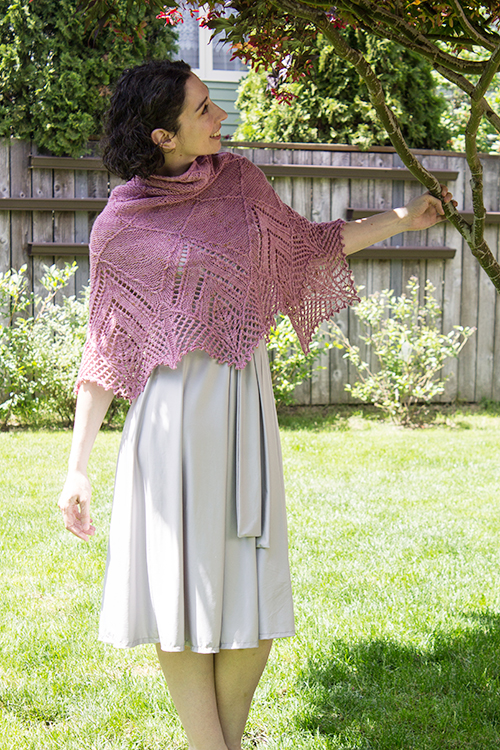 My second design is Antrea, a beanie, slouch and cowl pattern suitable for anyone. Knitters are probably aware of the general submissions process for patterns and they see the end product, but in between those points, yarn companies, designers, and the members of the publishing and editing team, all try to wrangle a zillion moving parts to make the magazine. Yarn is often being shipped to other countries and then the sample shipped back to tech editors in a third country before being handed off to the publisher for photography and anywhere in there, a missed deadline or late delivery can throw the process off kilter. So was the case with the yarn for Antrea. It was originally scheduled to go overseas, went missing, alternate yarn was shipped and the orphaned yarn, finally tracked down, needed a home. Having finished up Lithograph fairly quickly, I volunteered and was told that I may only receive one color so I should plan a design that didn't require two different shades.
A bit of virtual graph paper and a few hours of playing and I had a cable pattern suitable for a unisex set that could be worked in a single color or with a contrasting color in the ribbing.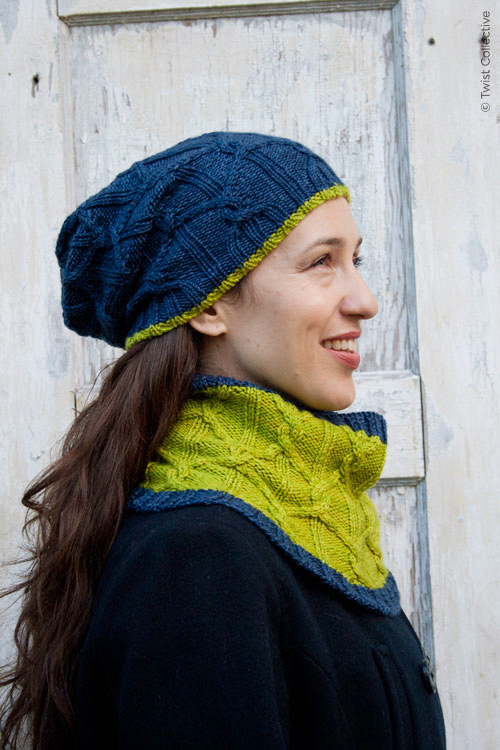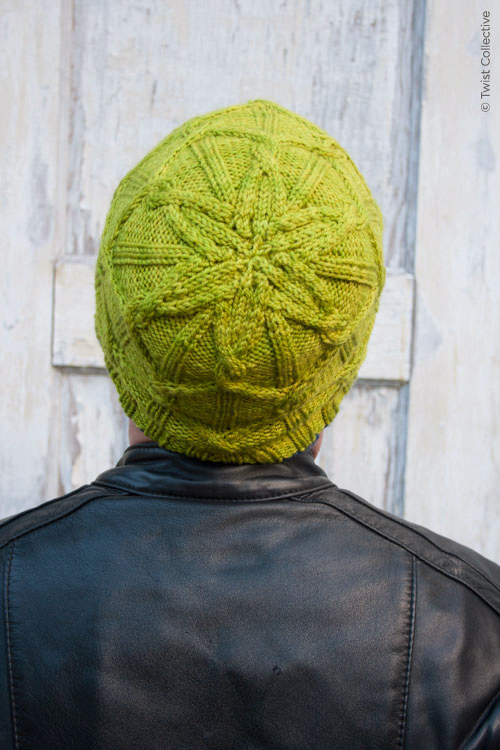 The SweetGeorgia Superwash DK is super soft and springy with great stitch definition so the pattern pops even in a darker shade. The hats can be worked in a smaller or larger circumference and fine-tuned with a tighter or looser gauge. One skein of each color will make either hat and the cowl in opposing colors dominance.
There's one more bit of new that you've probably noticed if you're friends with me on Facebook, I have a little bit of art with me all the time now.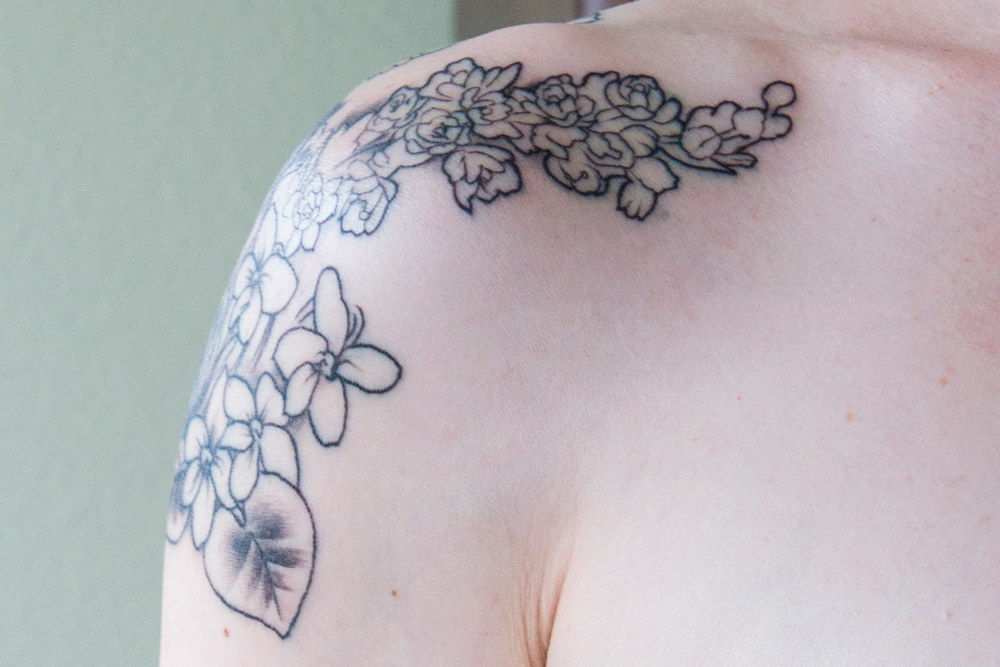 Oregon Grape blossoms
This beautiful piece was created by Ashton Allen at No Hope No Fear and it's even more beautiful than I could have imagined it would be.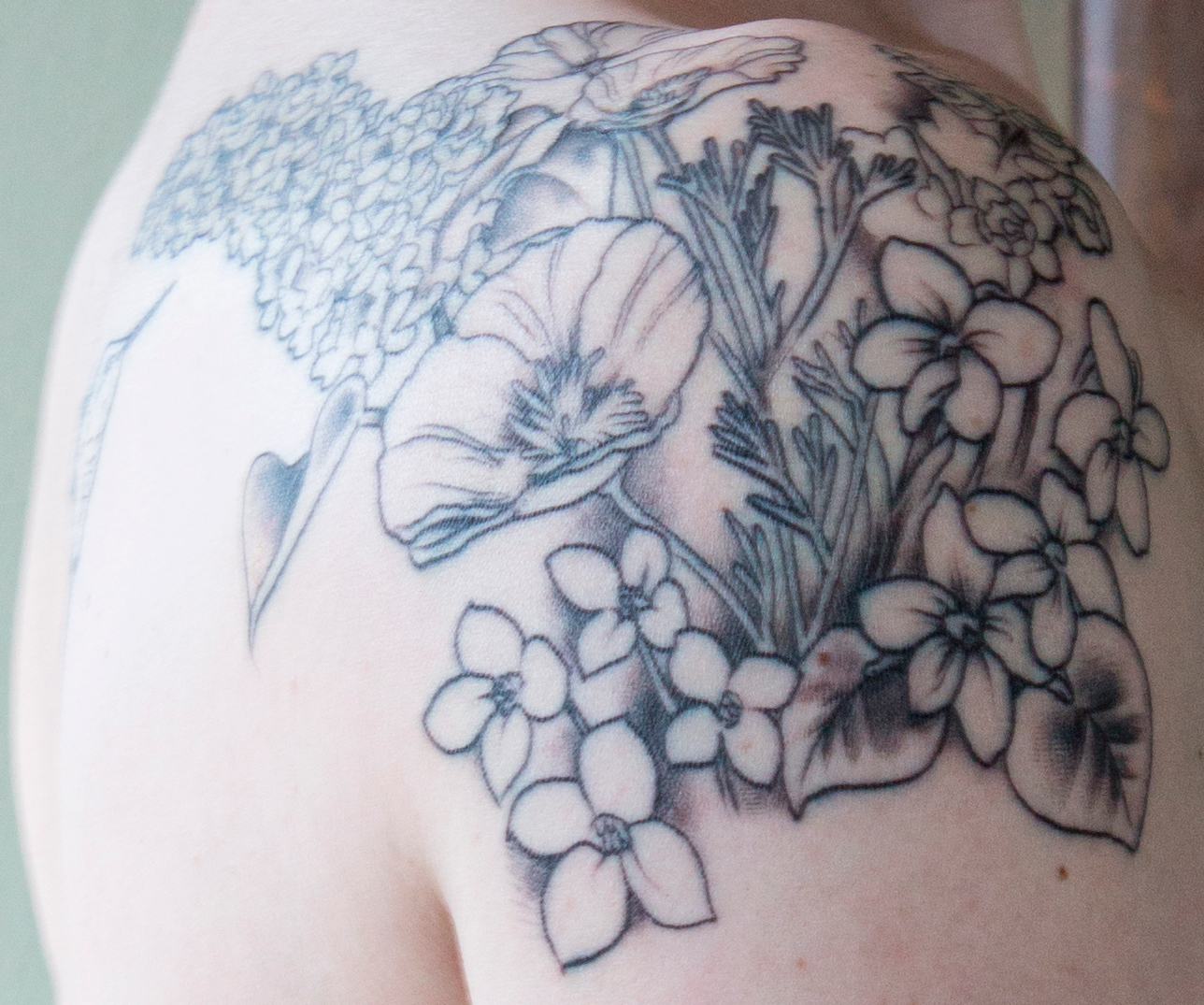 California Poppies, Mayflowers, and Violets
Each flower is the state flower for somewhere I've lived with a hummingbird in back because, well, hummingbirds are pretty.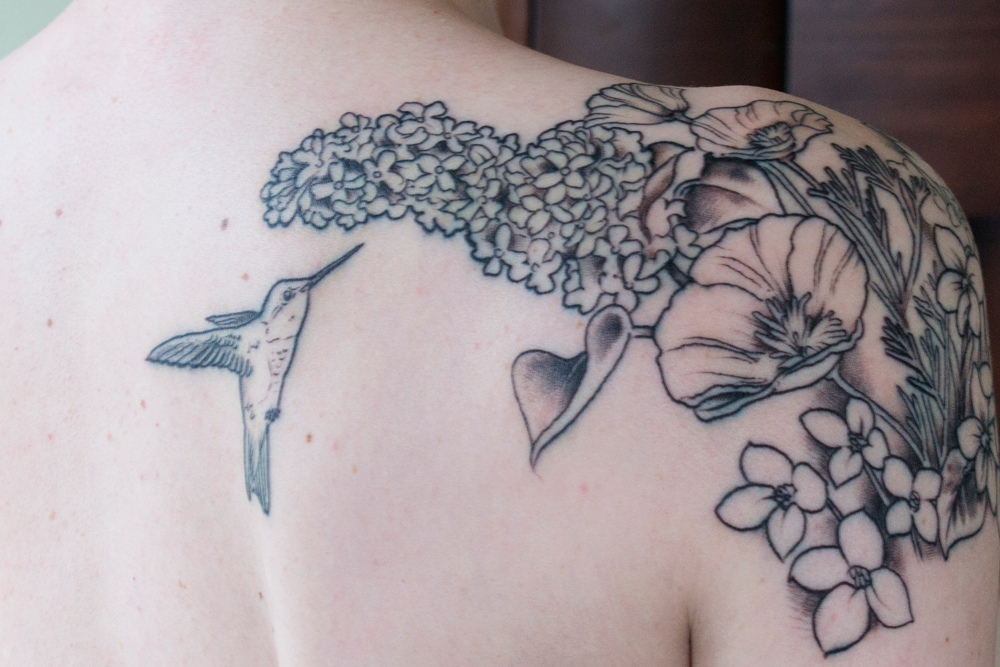 Lilacs and Anna's Hummingbird
Barring any unexpected issues, it'll be colored in November and the tattoo will be complete. I love everything about it and can't stop looking at Ashton's beautiful artwork.