I hope you've all seen the Winter 2015 Twist Collective that went live a couple weeks ago. My designs for the edition, is featured in the "I think I'll stay home" shoot which might as well be called the "Marnie's life if she were better dressed" shoot because I'm a shameless homebody who spends most of her time in her pajamas. In fact, I'm writing this post from the comfort of my big red robe and fuzzy slipper boots, right now. And, as is my wont to do, I'm sipping tea from my favorite mug that is nearly as big as my head.
See, I'm just like the shoot only, sllliiiightly less well dressed. Don't you agree?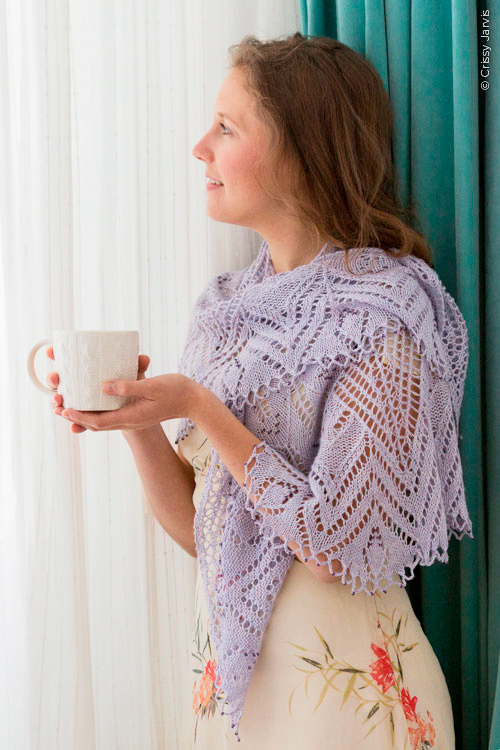 The shawl is a modified half-circle design, featuring just enough beads to add a little weight and drape. I love beads, but I find they slow me down when I'm working so I prefer to use them sparingly. I chose a deep aubergine shade to pop against the lilac color of the shawl, though I think gray or silver would be a really nice alternative option, for a subtler effect.
While I include instructions for a standard knitted picot bind-off, the sample is shown with my suggested bind-off. It's worked with a crochet hook using very simple crochet stitches and some pre-strung beads. I love this option for lace because the bind-off basically cannot be worked too tightly to block the piece out well.
I'm sure I've mentioned it before, but blocking lace shawls is one of my favorite parts of the shawl-designing process. It seems like magic; turning a crumpled mass of fabric into something airy, orderly and filled with unexpected detail. Twisted stitches, beads and nupps all pop and yarnovers and decreases scallop the edges in subtle or dramatic ways. But a tight bind-off can ruin the effect and knitters often can't tell how loose the bind-off needs to be until the piece is ready to be blocked. By then, hundreds of stitches may have been bound off, the yarn has been cut and ends woven in. It can be pretty disheartening.
The crochet method joins a small number of live stitches together with loops of single-crochet chains that provide more-than adequate flexibility to block out the shawl as aggressively or lightly as desired and unlike a too-loose standard bind-off, the edge is neat and tidy no matter how lightly the shawl is blocked.
Not a crocheter but willing to give it a try? The pattern includes a tutorial but if you want more detail, I've got an article for that.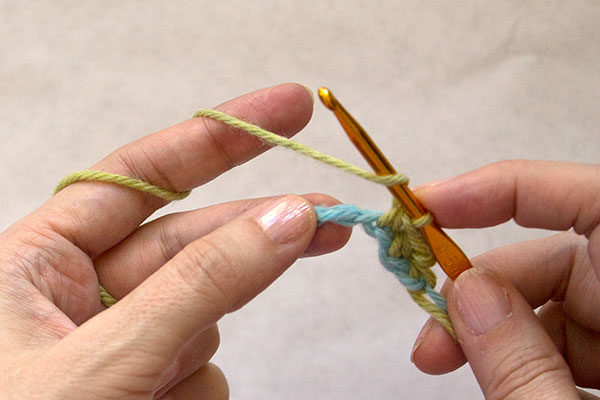 Crochet really is my first crafting love and this season, I take you through the basics of holding the hook and yarn, and working all the basic stitches. Crochet is knitting's best friend and knowing how to do both will open new finishing and embellishing options for your projects and designs. It may take a little time to get comfortable with it, but crochet is a great tool to have in your arsenal. If you've never crocheted before, I hope you'll give it a try and if you just need a refresher, I hope the article will get you back on track. I even point you to some existing Twist patterns that already feature some crochet. You won't lack for projects to put your crochet skills to work.
And lastly, I have a companion article to last season's article on Tubular Cast-Ons.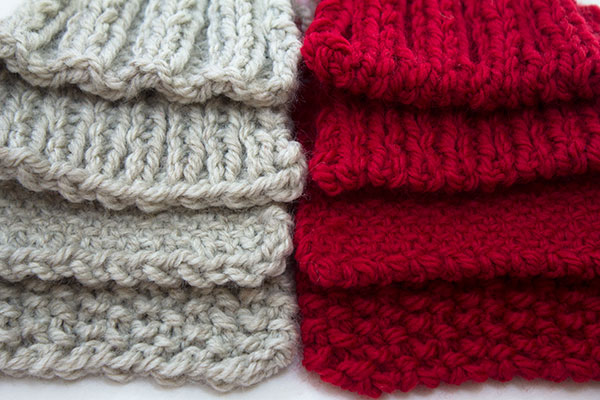 Just as a tubular cast-on gives those edges a professional finish, a tubular bind-offs produce flexible and attractive edges that elevate the quality of the work to a more professional level. Learn to work a standard tubular bind-off and how to adjust the bind-off for knit-two, purl-two edgings like ribbing and moss stitch.
I feel so fortunate to be a part of Twist Collective each season and I never cease to be impressed with the great articles and designs my fellow contributors bring to each edition. Even if you don't like my additions to the edition, I hope you'll flip through the magazine, read the articles and browse the shop.