I am not clever enough to come up with that headline, on my own. It's on a magnet I have stuck to the side of my desk. I can't remember who gave it to me because I'm pretty much the worst, but if you want your own, you can get it here.
This year marks a decade of designing, for me, and in that time, I've created nearly one hundred patterns, and only three of them are exclusively crochet. They all predate my efforts to standardize and make my patterns professional so I'm not going to give myself much credit for those.
But here's the thing, I love crocheting, always have. Up until about a decade ago, I never really knit more than swatches. I still have a few of the afghans I made, back when I worked during the summer in my college's computer lab. I could crank out a twin size blanket in a couple weeks, with all my free time. The only limitation was how many balls of Red Heart Super Saver I could afford. This was back when you either used AOL or had some sort of unix based interface to check your email, so the computer labs were primarily for typing and printing reports. I had a lot of free time.
Anyway, this is my long and rambling way to say that I have finally gotten around to designing a crochet pattern and it's with the tech editor now, so I hope to be able to release it in the next few weeks, presuming the pattern isn't a hot mess. This photo is pretty much useless. The lighting is too harsh, and it's too busy to see anything but I kind of dig the butt shadow of the lace border and Thea's adorable monkey face, so I cropped in on that for your sneak peek.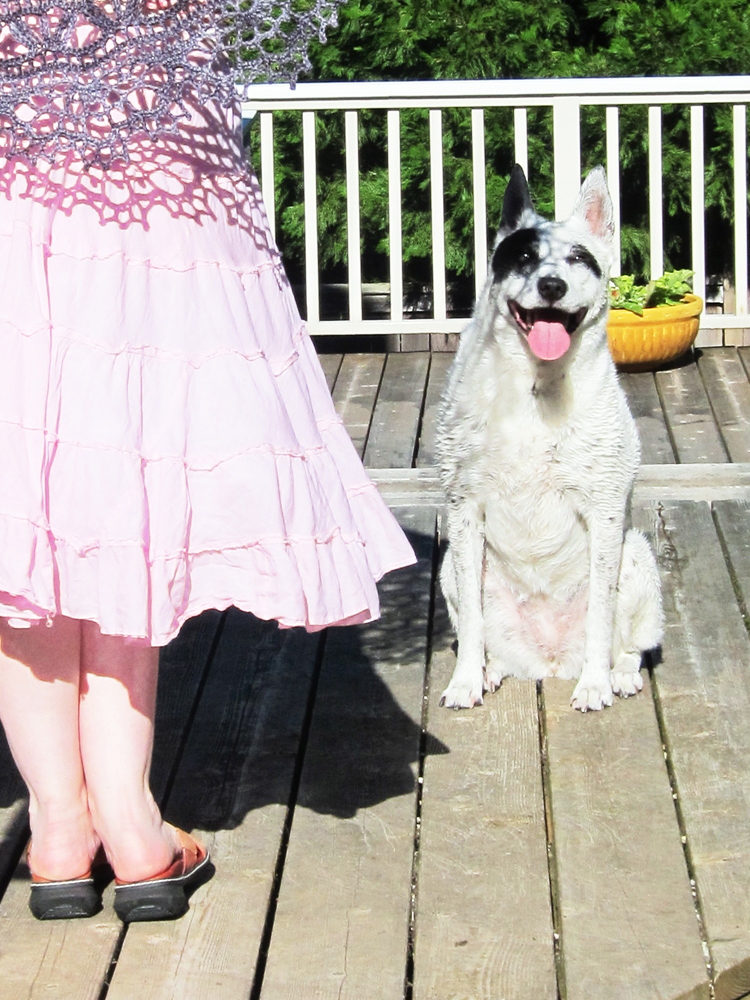 Not sure how many of you crochet, and of those who do, I'm not sure how many of you like shawls, but if you happen to fall into both of those categories, hopefully you'll like this pattern. It was a nice change of pace to work in crochet. It has its own challenges (and boy does it eat yarn) but, then again, I've always loved crafting for the challenges. And if you don't crochet, and/or hate shawls, hopefully you at least enjoy the doggy portion of today's post.
I'll be interested to see how well a crochet shawl does. I've heard it said that there are more crocheters than knitters but that the former are less likely to buy patterns than the latter. If you have some insight, either way, I would love to get your thoughts in the comments. I'll definitely design more if the demand is there.