I'm pretty sure that some sort of torture is going on in the guise of hospitality. We wake up early every day (hello, 5:00 AM, nice to see you), eat a huge breakfast, waddle to our cars, begin our day of work, with a constant stream of coffee and cookies if necessary. Then, before you know it, a giant buffet of foods from traditional Indian to classic Italian will be spread before us. One cannot pass up traditional Indian food while in India, so down the gullet it goes. Ooooh, so good!
Meeting after meeting continue, with more coffee to artificially maintain momentum. Then we're broken off into groups where we sight see or shop until Dinner, which, of course, will be huge and run until all hours of the evening. One must be sure to simply sip the wine because the glass will be surreptitiously replenished when least expected. Then, it's back to the hotel, where exhaustion causes the bed to nearly sing to me (that's normal, right?) yet it is the start of the day back home, so there is much more work to do. I attempt to wade through the mountains of emails and sort out various issues before passing out cold.
If I don't completely explode from overeating, I'll surely go mad from exhaustion.
I say all this only to relieve my self of all obligation to put together a coherent and interesting blog post. Instead, I present to you, a rag tag selection of images with no apparently segues or useful narratives.
So without further ado...
For my crafty friends, here's a little fabric porn.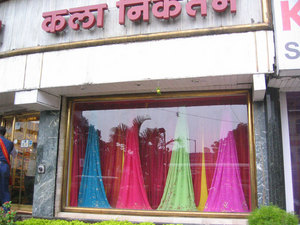 I'll only be showing you a fraction of what's inside. I'm pretty sure that after a certain point, I lose all sense of reality and go into some sort of silk related sensory overload.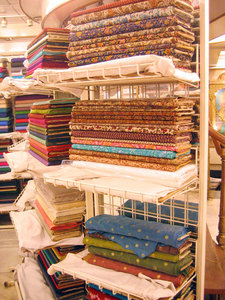 These are all printed silks that are so cheap, one might be inclined to shed a tear. If you were to turn the corner, you'd have wall after wall of silk saris to choose from. If I hadn't been mopping my drool up off the floor, you would see a pictures.
Along the other wall were their cottons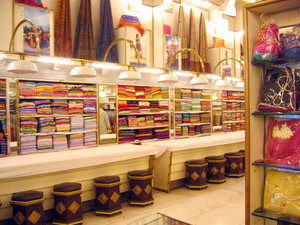 I'm pretty sure my host cannot fathom why I'd care about the cottons, but my god, for 12 dollars I could get enough fabric to recreate Princes Dianna's wedding dress, train and all. The printing is easily as beautiful as the silks yet with loads more practicality. Also inside were gorgeous pashmina shawls and other hand crafted textiles. If I told you the prices, you probably wouldn't believe me. I recall seeing pashmina shawls in stores for over $100. Here, you can get a hand loomed, reversible one for under $30.
If money were no object, this store would have afforded me the option to look as lovely as some of the staff who joined us for dinner last night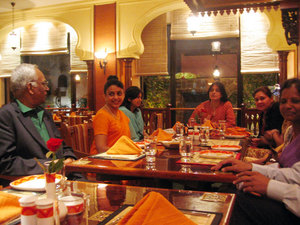 This is the prelude to yet another binging incident.
Must...find...stretch...pants
But what is a blog post about India, without the obligatory cow?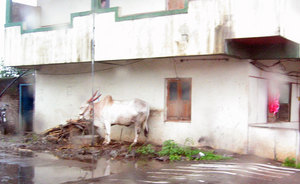 It has been my goal to attempt to get my picture taken next to one of these fellas. I'm informed that no native would every consider having her picture taken next to a cow. I pointed out that most New Yorkers wouldn't deign to have their picture taken in front of the Statue of Liberty either. It's all part of tourist adventure. If it happens, you'll all be the first to know.
Now back to the salt mines for me.