The Manzanita Collection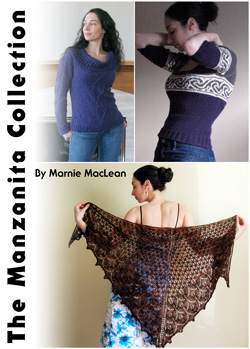 These three flattering and versatile pieces are filled with detail, fitting tips and full color photos. Bought individually, the set would cost $24.99 but they are now available as a set for $18.00. See all the details about each pattern by clicking the following links:
If you have already bought some or all of these patterns before November 6th, 2009, and want to take advantage of the discount, simply send me an email at contact address, above, with the subject "Manzanita Collection" and attach your receipts. I'll reply back with an invoice and provide you a link to download the patterns.
Before you purchase
You are buying a PDF download. Because of the nature of PDFs, I cannot offer refunds. Each individual pattern has its own about page with details about what is contained within the pattern and skills you need. The patterns contained within this set are: Jamison Square, Astoria and La Cumparsita. Please contact me with any questions you have if you are unsure about purchasing these patterns. I accept Pay Pal payments only.
Upon receipt of payment, you will receive a link to download the 3 patterns as individual PDF files. You will also receive all errata, if any are posted. Be sure to check your spam folder if you do not get a download email after purchase.
Because of the nature of PDF downloads, I cannot offer refunds for purchases. Please let me know if you have any questions or concerns before you buy. I want to make sure you only buy a pattern you really want. Thank you so much.
You are welcome to use these patterns for your own personal, non-commercial or charitable use. If you wish to sell items made from these patterns or teach classes using my patterns, please contact me. Please do not distribute this pattern in print or electronically or post this pattern to your own site or publication.