Marnie MacLean Designs: Patterns:
Carlsbad Hat
The Carlsbad Hat
Return To Patterns
Back
Copyright Marnie MacLean 2005
Click on Images for Larger View
Designed by Marnie MacLean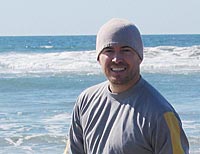 Carlsbad is a city in the San Diego area of California. Mild temperatures and beautiful beaches can be found year round. Sometimes, the ocean breeze is just cool enough to warrant a hat, but one that is light and breathable.
The Carlsbad hat is constructed largely as the Pismo Hat is. It's a tight fitting beanie knit with fine gauge cotton yarn and using paired decreases for a professional finish. Where the Carlsbad hat differs is in it's weight. Knit in stockinette instead of ribbing, it's a hat you can forget you are wearing. The fabric is light, thin and cool and being cotton, it won't cause sensitive skin to itch.
Supplies
1 skein of Idena Bambino Bomull or another baby cotton in color of choice.
Optional: scraps of contrasting color for stripe(s)
US #1 needles (flat or circular)
6 stitch markers (SM)
Tapestry needles
Gauge
In stockinette
32 stitches x 48 rows = 4"
Sizes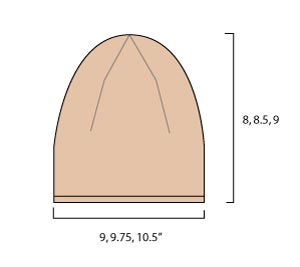 S [M, L]
Finished circumference:
18" [19.5", 21"]
NOTE:
If you wish to modify for a different size, add or subtract stitches in multiples of 6.
To determine best size, measure circumference of head. If in between, go down a size.
Hat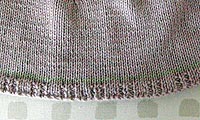 CO 145 [157, 169] stitches
Place a stitch marker after the 12th [13th, 14th] stitch and then after every 24th [26th, 28th] stitch after that. 6 stitch markers total
First row: K2, *p1, k1, p1, k3* repeat from * to * to last 5 stitches. P1, k1, p1, k2
Work in pattern established for a total of 5 rows
Next row: P
OPTIONAL: Knit 1 row in contrasting color
Work in stockinette until piece measures 3"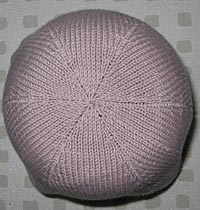 Decrease row : Knit to within 2 stitches of first stitch marker, ssk, slip marker, k2tog. 133 [145, 157] stitches remaining
Note: Reverse the decreases to get a slightly different looking effect. The decrease indicated will give a sort of feathered looking line of decreases. Reversing them will make a smoother looking line of decreases. Alternately, work a vertical double decrease (slip 2 stitches as if to k2tog, knit the next stitch, pass the two slipped stitches over the knit stitch) to make a raised chain of decrease.
Knit 5 rows straight.
Repeat the decrease row and 5 rows straight 1 [2, 3] times more. 121 stitches remaining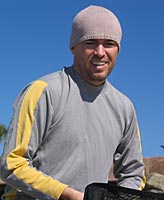 *Work decrease row, then work 3 rows straight* 6 times. 49 stitches remaining
Work decrease row, every other row two times. 25 stitches remaining
Cut a long tail and pull through remaining stitches twice. Cinch tightly.
Use tail to sew up hat from crown to hem.
Weave in all ends.
Blocking
While not entirely necessary, blocking helps the hat to fit a little better and makes it less likely to migrate upwards. Find a head sized object or stuff a plastic grocery bag to head size. Wet the hat and place upon said object. Smooth out the hat.
Allow to dry in place.