Bellocq
Copyright Marnie MacLean 2007
Click on Images for Larger View
Bellocq (link not safe for work) was a photographer in the early 1900s, who photographed the women in New Orleans' brothels. These stockings are a nod to his work and the beautiful, curvy women women he photographed.
These lovely lace stockings come in a variety of sizes, lengths and styles. Whether you need a lovely pair of socks to wear any day, a sweet pair of knee highs for under a skirt, or a stunning pair of thigh highs to turn some heads, this pattern has it all.
You can purchase the pattern here.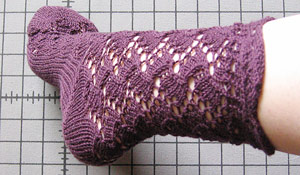 A sample I knit of the crew sock. .
All three versions are worked toe up so you can fit as you go. The bottom of the sock is worked in stockinette to ensure a comfortable fix.
All three styles offer a perfect border to showcase a lovely silk ribbon. Keep it simple and tack down the ribbon, as shown in the crew sock at right, or make them even more feminine with a bow or two.
While I may have designed these, I had a lot of help from a team of test knitters and tech editors. There are a few names you might even recognize.
Special thanks to:
Jennifer Hansen: Stitch Diva Owner, layout designer, photographer, tech editor, test knitter, and pretty much everything else under the sun:
Danna Spiro: The first test knitter to knit any of these socks and who helped me iron out almost all the problems in the pattern. She's also hilariously funny.
Donna Druchunas: Technical editor and mastermind who distilled my endless ramblings down to a coherent pattern
Lauren: Test knitter extraordinaire. Whipped out a pair of thigh highs in no time flat
Carol Didier: Test knit the crew socks.
Pamela Burke: Test knit the knee highs
Thank you all!
Because of the nature of PDF downloads, I cannot offer refunds for purchases. Please let me know if you have any questions or concerns before you buy. I want to make sure you only buy a pattern you really want. Thank you so much.
You are welcome to use these patterns for your own personal, non-commercial or charitable use. If you wish to sell items made from these patterns or teach classes using my patterns, please contact me. Please do not distribute this pattern in print or electronically or post this pattern to your own site or publication.